Coconut Shrimp
Dustin and I thought it would be fun to take ridiculously unhealthy coconut shrimp and make a healthier version of it for a fun, tropical dinner alongside a fresh mango and edamame salad. I decided to go with a recipe from Bobby Deen, son of the queen of butter and fat, Paula Deen, that involved baking the shrimp rather than frying and using a light coating of panko bread crumbs and shredded coconut. Bobby Deen now hosts his own television show called Not My Mama's Meals where he takes his mother's famous Southern comfort food recipes and lightens then up so you can actually enjoy these recipes on a regular basis without having to worry about having a coronary.
We bought small shrimp, so they ended coming out more like popcorn shrimp which made them a little more exciting. I'm pretty sure everything becomes more fun when you add the word popcorn to the front and miniaturize it. We covered the shrimp with some whole wheat flour, dipped them in whipped egg whites, then stuck them in the panko, coconut mixture before baking them in the oven at 450° for 10 minutes. We didn't have unsweetened coconut, so I was slightly worried about burning the coconut in the oven, but I'm happy to report that the coconut toasted up beautifully.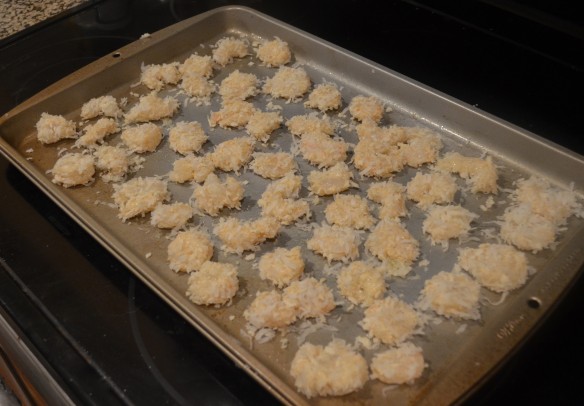 The orange dipping sauce that accompanied the recipe was a nice pairing with a little bit of kick. The sweetness from the orange and honey went well with the curry and red pepper flakes.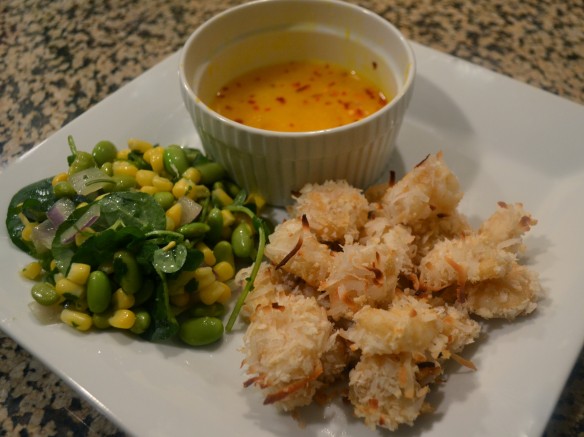 This was a really light and fresh dinner that really made us start counting down the days until we actually feel like it is spring up here.