Fresh King Salmon With Poached Egg & Aspargus Crostini
The theme for this meal was fresh and (mostly) local— a beautiful filet of wild Alaskan king salmon (hence the word mostly before local) from Pike's Place market, served alongside a crostini made from a Macrina baguette, local, first of the season asparagus, topped with a fresh, locally sourced poached egg and all covered with yellow sunburst tomatoes.
We coated the salmon with some olive oil and Tom Douglas' Rub With Love for some local Seattle flair and cooked the salmon at 200° for approximately 25 minutes. We were aiming for a medium rare on the salmon, but it was a little undercooked. It was no matter though since the fish was so fresh, and the taste was that of a perfect salmon sashimi.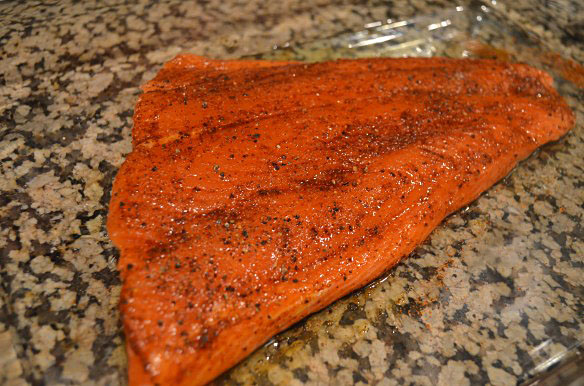 We grilled up the asparagus on the stove in some olive oil with a little bit of salt and pepper for simple perfecly cooked asparagus tips.
We toasted up the slices of baguette for the crostini on the stove with a little bit of olive oil. At first, we didn't have the temperature of the pan hot enough, so the edges didn't brown nicely (as seen in the picture), but we turned up the heat and those slices toasted up to a wonderful crunchiness with browned edges.
While all of that cooked, we poached an egg before assembling our perfect crostini alongside the salmon topped with fresh cilantro.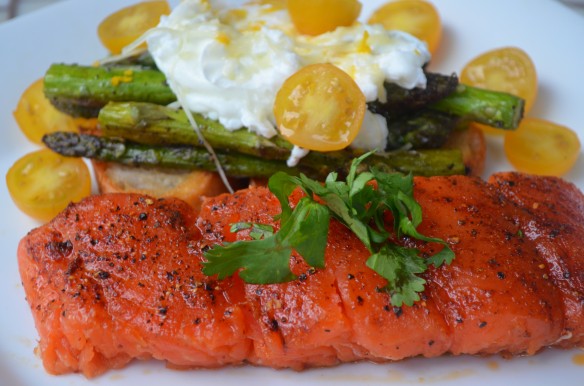 This plate was so colorful and delicious and really embraced the idea of eating seasonally and locally, which is really popular in the Northwest. This made for a wonderful and romantic, restaurant-quality, dinner right at home.