Baked Orange Chicken
Orange chicken is another of my favorite Chinese foods. I love the complex combination of citrus, sweet, and spicy. I hate the fried aspect of the dish and not knowing exactly how many calories those Chinese restaurants put in that orange sauce. The best way to remedy these problems? Make it at home, healthified.
First we decided to bake the chicken—faux frying if you will by dredging small chunks of chicken in flour, egg, and Panko breadcrumbs. We cooked our chunks for about 20 minutes at 400° with a thin layer of sauce (we did add more at the end to make them extra saucy.
As for the sauce, I basically followed this orange sauce recipe, and it was quite good— a balanced blend of all the flavors I like in orange chicken.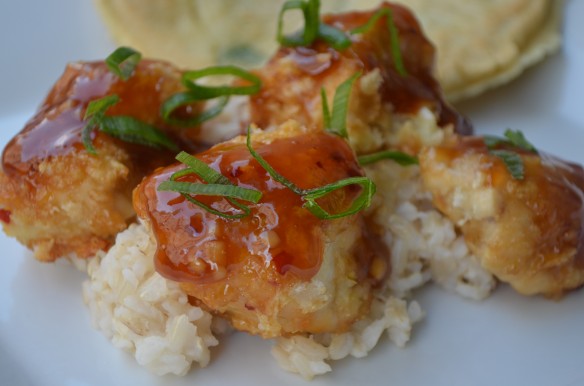 This meal took quite a bit of coordination, but our efforts were well worth it in the end. We had a delicious Chinese meal with rice, topped with chopped scallions, served alongside homemade scallion pancakes.