Creamy Smoked Salmon Pasta
The day we arrived in Seattle on our visit last spring, we stopped at an Italian restaurant called Barolo right by our hotel downtown. I had this fabulous creamy pasta with smoked salmon off of a prix fixe lunch promotional menu. It was my first taste of the Northwest, and I still think of this pasta to this day.
I wanted to develop a more healthy version of this creamy dish using Greek yogurt instead of heavy cream. We made the sauce by combining a little bit of butter with some minced garlic and shallot. Once the shallot pieces were translucent, we deglazed with a splash of vodka to add a little bit of crispness to the dish. Next we added a cup of 2% fat Greek yogurt for a creamy texture, and a few splashes of half and half until the sauce thinned out to the desired texture over medium heat. We actually ended up adding a little bit of nonfat milk in the end to smooth it out a tad more without adding anymore fat.
Next we added dried sage and oregano along with our protein, some chopped smoked salmon (approximately 1/3 of a pound), and about 1/2 of a cup of frozen peas (thawed) and let the mixture cook for a few minutes. We poured the smoked salmon and sauce over some whole wheat pasta.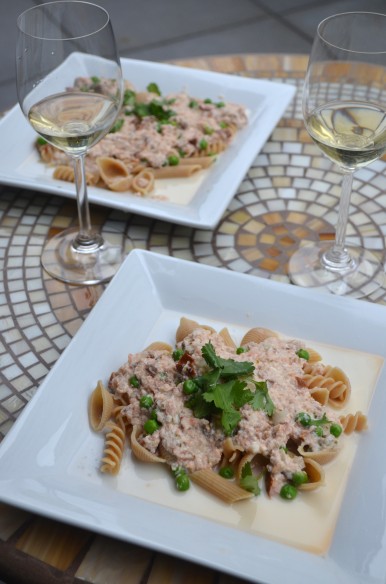 We served the pasta with a white wine and consumed everything on our patio on a sunny evening. The pasta doesn't look super beautiful because the yogurt made the sauce pretty chunky, but the flavors were nice. Not quite as delicious as the pasta from Barolo, but definitely a much healthier, at-home option.