Grilled Salmon Tacos
Bonnie is loving the warmer weather and hanging out on the patio. She's such a cutie and so well behaved! She just jumps in the planter that acts as a border for our patio and hangs out there while we cook and eat. As we sit and eat good home cooked food in the Seattle sun with our little puppy, it's hard to imagine life getting much better. This summer is going to be amazing!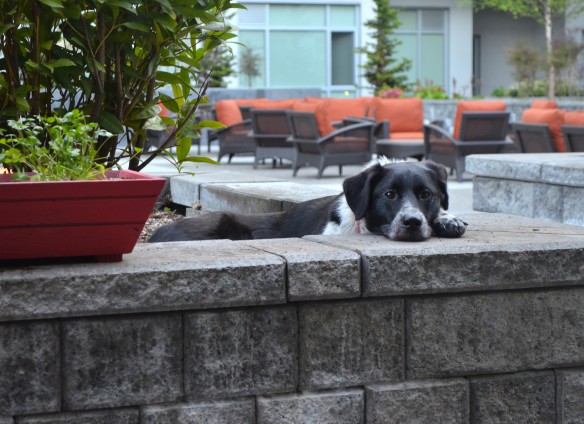 This dinner was inspired by some delicious fish tacos Dustin ate at a restaurant right when we got back from Jamaica. There was a delicious coleslaw atop those tacos that really made us want to experiment. We've only recently begun to eat coleslaw. I always thought I didn't like it, but maybe I just never ate very good colelaw. Or maybe I'm just growing up and my taste buds are changing. Either way, now I'm eating cabbage (as long as it's not dry like it was served in Jamaica). We found a simple recipe on the Food Network site, slightly adapted.
To make the slaw, Dustin mixed red cabbage instead of green cabbage and used chipotle and adobo powders instead of the a chipotle pepper packed in adobo. The cabbage was mixed with the spices, 1/4 of a red onion, 3 tablespoons of cilantro, 1/2 cup of low-fat sour cream, the juice of a whole lime, a tablespoon of honey and salt and pepper.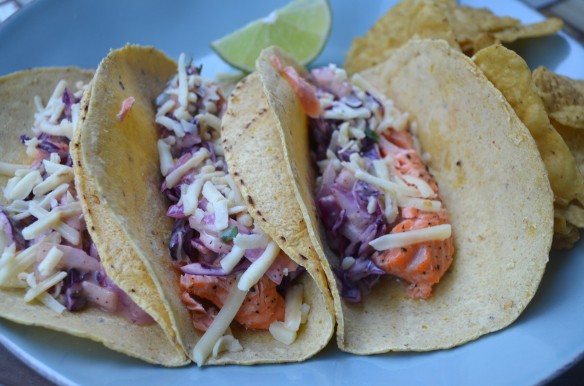 Instead of a traditional white fish taco, we used fresh Alaskan salmon that we grilled out on the patio on top of warm corn tortillas. These tacos were simple and pretty close to perfect. I think the only improvement that could be made is using queso fresco instead of the Mexican blend that we had. Homemade tortillas also might take these up a notch. We received a tortilla press as a wedding present that we plan to put to good use very soon, so stay tuned!