Herbed Baked Brie
It's hard to believe it was a year ago that Dustin and I had just finished up at Rice and were heading off on our trip to Europe. We had the best time visiting London, Paris, and Rome and are itching for our next trip across the Atlantic.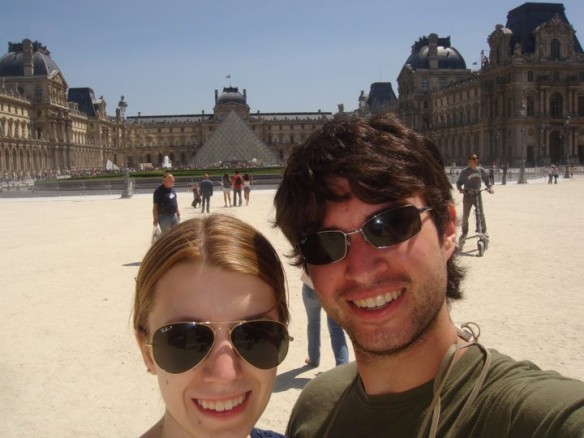 Some of our best moments were in Paris where we picked up a baguette, a bottle of wine, and some cheese, (sometimes a selection of deli meats) and picnicked at different locations across the city. Of course we ate across from the Eiffel Tower, but our absolute favorite picnic was at the park across from the Louvre. We were secluded beneath shrubs and had a great meal looking at the spectacular building. We were super hungry and exhausted because we had spent all day walking in the hot sun before we decided to wander around, searching out places to buy our picnicking supplies. We had to wander A LOT. We found a boulangerie quite quickly for our baguette, but it took us quite awhile to locate a fromagerie to buy our block of brie. We were under the impression that there'd be a cheese shop down every street in Paris, but boy were we wrong (or maybe just in the wrong part of Paris). But after our adventure searching out the cheese (being without a smart phone to look up locations and not speaking a lick of French were two huge obstacles to overcome), I think the wine tasted a little sweeter and the cheese a little creamier.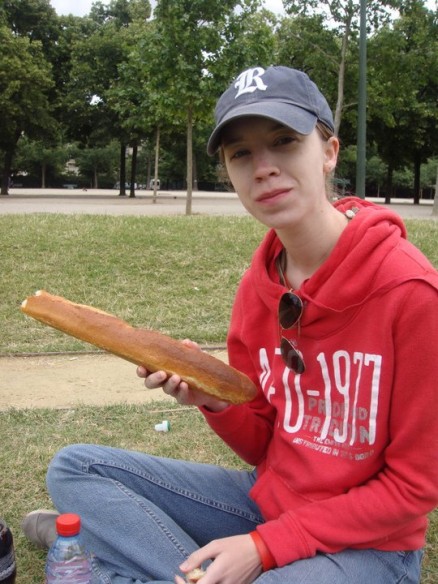 We decided to have a French afternoon consisting of a bottle of white wine, a baguette, and a baked brie on our patio one beautiful weekend followed by a couple of macarons from La Panier in Pike's Place Market. I saw a delicious looking recipe for baked brie dip with honey and thyme at 20something cupcakes, and knew it would be perfect for us to try. I used a little less brie and a little more cream cheese and included a few springs of rosemary as well, which added a nice subtle flavor.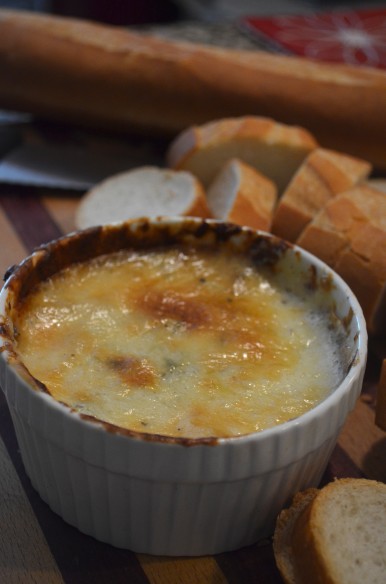 Dustin and I were super excited to make this because it was our first chance to use the fresh herbs we started growing on our patio last week. We went a little nuts at Home Depot and Lowe's and bought a ton of different flowers and herbs that we potted and have on display now alongside our lovely new patio furniture. We've decided after being cooped up in the dreary Seattle cold for the last seven or so months, we are going to take advantage of every opportunity we get to enjoy the perfect Seattle summers relaxing on our patio.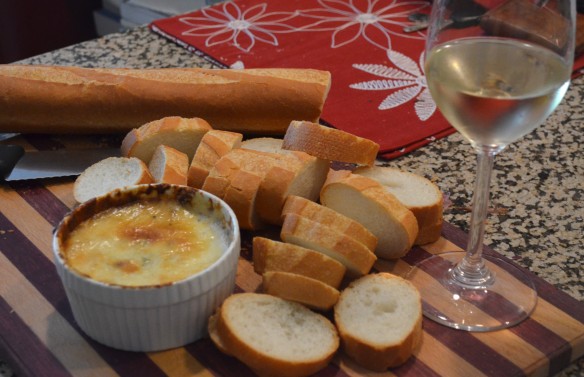 This dip was perfectly warm and creamy, kind of like a fondue, and really simple in its flavor. It would make a really excellent appetizer, but Dustin and I prefer to eat our bread and cheese for lunch! I really wanted to make the homemade baguette to go alongside the dip, but I totally didn't have time that morning to let the dough rise. I definitely want to try my hand at that soon though.