Birthday Cake Oreo Stuffed White Chocolate Chip Cookies
Why oh why didn't I buy more than one bag of Birthday Cake Oreos? I finally found them several months after searching like a madwoman and resigning myself to the fact that I'd never find them, and then I only buy one bag? I think I was trying to convince myself to eat healthier. Then of course I stuff them into white chocolate chip cookies. Cookie on cookie. Really healthy...
Now I can't find them again. And where the tag once said Birthday Cake Oreo at Safeway, now another cookie's name graces that location. I have a funny feeling these babies won't be stocked anymore. Sad day.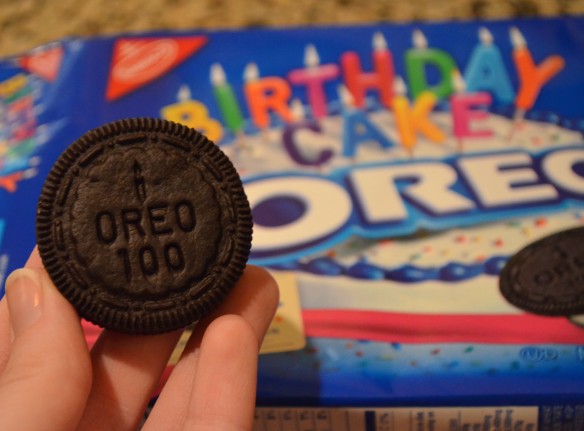 I'm actually not a huge Oreo nut despite how it may sound. I do however love the middle creme, which is the sole reason for eating Oreos in my humble opinion. That's why the thought of infusing the flavor of cake batter into the creme made me search high and low for these limited edition Oreos to celebrate the Nabisco treat's 100th birthday this year. I definitely enjoyed the Birthday Cake variety more than the original, and hope Nabisco rereleases them at some point.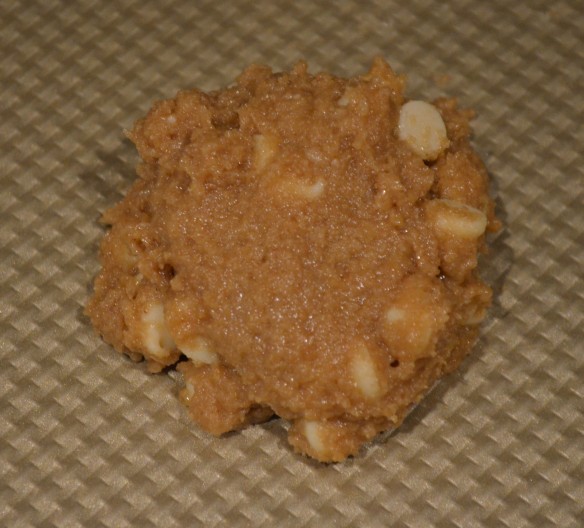 Oreo stuffed chocolate chip cookies were all the rage on the Internet for awhile, and I never got around to trying them. Once I tasted the Birthday Cake Oreo, I knew this ingredient was the exact thing needed to take that cookie over the top, and that I had to make 'em immediately before I devoured the entire bag.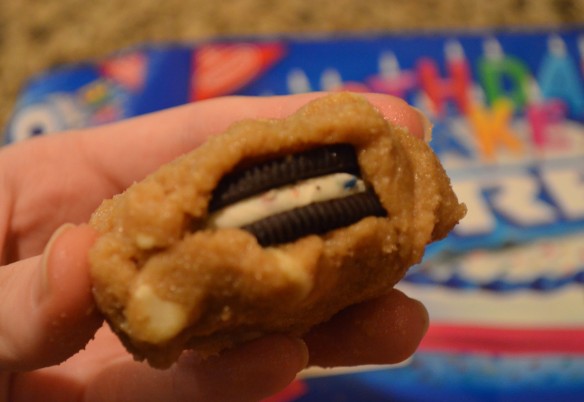 Take your favorite chocolate chip cookie dough recipe and replace the regular chocolate chip with (high quality) white chocolate chips. We didn't have regular chocolate chips, and I actually think the flavor of the white chocolate complements the creme (the obvious star of the show). Besides, there is plenty of regular chocolate flavor from the outer parts of the Oreo. Form the dough around the Oreo and bake according to the original recipe, plus an extra couple of minutes to account for the extra layer of cookie preventing the top from browning.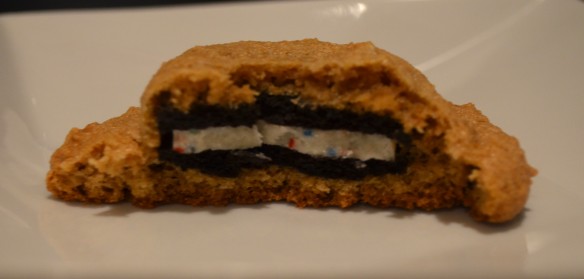 Break in half and enjoy alongside an enormous glass of milk!