Chocolate-Banana Avocado Froyo
I think it is fate I stumbled upon a recipe for a frozen yogurt that uses avocado to create creaminess on the same day I had Greek yogurt and an extra half of an enormous avocado leftover in the fridge. My sadness at the prospect of not having anything to do with the avocado quickly turned into excitement to try out my ice cream maker (another wedding registry gift) for the first time. Yes, avocado in ice cream might sound weird, but it was really good, similar to the rich chocolate avocado pudding I made a few months back with a subtle banana flavor.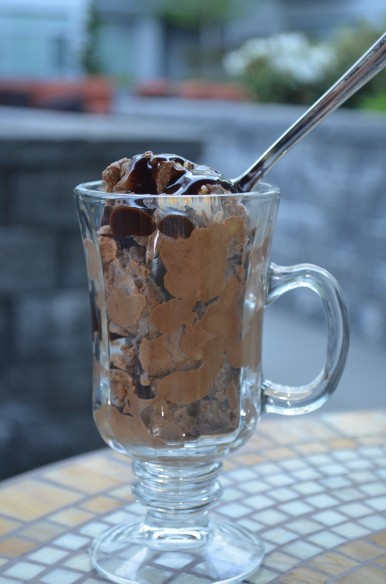 I used plain ol' sugar instead of liquid stevia to sweeten this, but I really didn't have to use very much courtesy of the ripe banana, and we drizzled the top with a little bit of chocolate syrup. What this dessert really needed was a swirl of whipped cream, but unfortunately we didn't have that in the fridge. Even without the whipped cream, this frozen yogurt was deliciously creamy and a much healthier alternative to traditional ice cream thanks to the Greek yogurt and the fruit base.