Frozen Mango Margaritas
Dustin and I like our margaritas traditional, on-the-rocks. But sometimes when it's warm outside a nice frozen margarita really hits the spot. Personally I can't decide if I like mango or strawberry blended in. I guess it depends on my mood. This particular evening we made frozen mango margaritas because we had a bag of frozen mangos in the fridge which gives these margaritas their nice texture without adding too much ice, which waters down the flavor.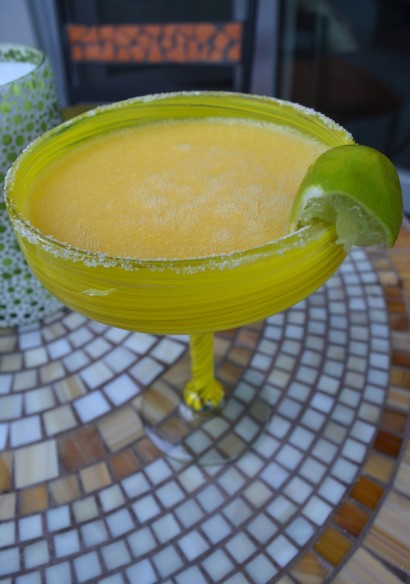 Frozen Mango Margaritas
(Makes 2)
1.5 ounces agave syrup
2 limes, juiced
3 ounces tequila
1.5 ounces orange liqueur
1 cup frozen mangos
1 cup crushed ice
salt
lime wedge (for garnish)
Run a used lime wedge around the edge of a margarita glass and salt the rim. Combine the agave syrup, lime juice, tequila, orange liqueur, mangos, and ice in a blender (my Vitamix works quite well for this) until your desired slushy consistency is reached. Pour into salt-rimmed glass and enjoy on a hot, hot day for a refreshing treat.