Homemade Chili Con Queso
I'm slightly embarrassed to admit how much I love chile con queso and how much I ate it as a child. Whenever we'd eat at a Mexican restaurant (which was a lot), I'd order a bowl and munch on cheese covered chips as my entire dinner. At this point in my life I was a picky eater, so I guess my parents were just happy to have me eat. Now I cringe at how many calories and saturated fat I had to have been consuming. As I started eating better, chile con queso became a treat when eating at a Mexican restaurant and now it's even more of a treat considering we don't have legit Tex-Mex restaurants here. Obviously, queso had to be a star at our party, so I toyed around with using the Velveeta and a can of Rotel trick. But everything else was going to be homemade, and did I really want one of my stars to come from a box of processed cheese product?
In came Lisa Fain' (of the Homesick Texan blog) to save the day with her recipe for chile con queso from her Homesick Texan cookbook. Just a little warning if you buy the book and want to serve a large group with the queso— the recipe says it serves 4-6 people, so we tripled it. We had queso coming out of ears! Making one serving of this recipe would have been sufficient for our party especially because we had so many other appetizers. I'll tell you exactly what we did, but if you make this dip, I recommend downsizing unless you want ridiculous amounts of queso.
First we began by melting six tablespoons of butter in a large pot on medium heat. Next we added one and a half large sweet Texas onions, three jalapenos, six serrano chiles (all diced) until the onions were translucent. Next we added six cloves of minced garlic, cooking for another couple of minutes before adding 6 tablespoons of flour and whisking for approximately 30 seconds.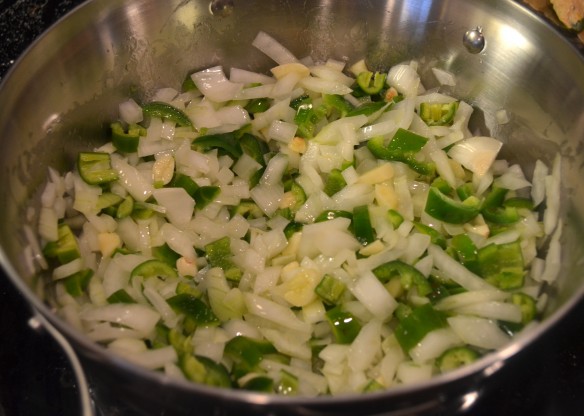 Next came three cups of whole milk which we stirred until the mixture began to thicken. Then we added approximately 1/2 cup of cilantro and three cups of diced tomatoes, stirring. At this point we transferred everything to a crockpot on low heat, so we could easily transport the queso to the party and keep it warm throughout. Next we began adding the cheese. The original recipe called for equal parts Monterey Jack and cheddar (36 ounces of each based on tripling), but we just used a blend of four Mexican cheese that we bought in bulk from Costco. We ended up not adding all of the cheese or else we would have had queso overflowing from our crock pot. But we tasted the cheese and it was still plenty cheesy, so I'd suggest adding cheese to taste.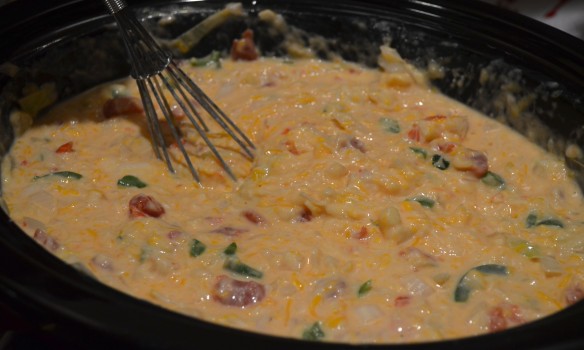 Finally we sprinkled in a little bit of salt and stirred in a 1 1/2 cup of sour cream which really helped smooth out the texture and made it feel like legitimate chile con queso. Serve with lots and lots of tortilla chips. As much as you try to stop yourself, you'll keep going back for more!