In-N-Out Animal Style Sauce
Now that June has rolled around, I think this is the official start of burger grilling season— something I'm sure Dustin and I will be doing quite a bit this summer.
A few weeks ago when we were having nice weather, we cooked up a fantastic patty with beef and ground pork with our neighbors. We also decided we wanted to try our hand at making our burgers animal style à la In-N-Out by adding a special sauce and grilling the buns up with a little bit of mustard.
While I'm talking about In-N-Out, I think it's a little ridiculous that we've moved to the west coast, but we don't get In-N-Out. Then In-N-Out moves to Texas as soon as we leave. What's up with that? But now that we have a recipe for animal style sauce, maybe my cravings will be curbed. That's always been the best part.
The recipe we used comes from Alaska From Scratch via Serious Eats.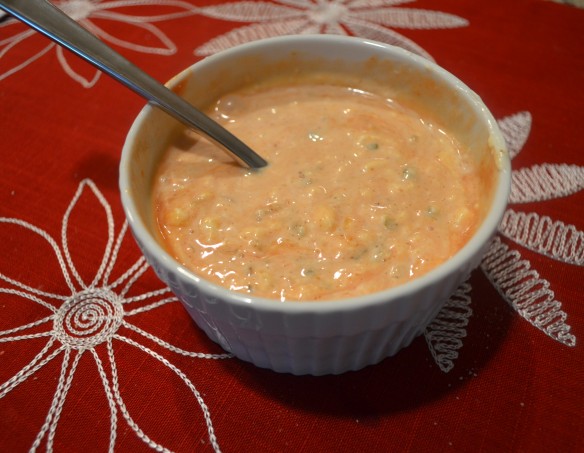 In-N-Out Animal Style Sauce
(makes enough for 4 burgers)
2T + 2t mayonnaise
1T ketchup
2t sweet pickle relish
1/2t distilled vinegar
1/2t sugar
There's only one instruction: mix all of the ingredients in a bowl. You can make it an advance and keep it in the fridge until you are ready to use.
We didn't have a chance to get a picture of the burgers, but they were deliciously juicy with a layer of perfectly melted Monterrey Jack cheese. They seriously looked like burgers from a gourmet burger joint!