Mediterranean-Inspired Fish and Grilled Artichokes + Caper Aioli
Still learning about how to prepare our foods, we mistakenly grilled up a piece of flaky, white fish outside on the grill. Oops! Next time we'll stick to salmon and tuna steaks.
Despite this sometimes odd texture of the fish, it was still quite tasty, covered in tapenade. The real star of this show however was fresh artichokes with lemon caper aioli. We sliced the artichokes, boiled them for ten minute, brushed a little bit of olive oil on them and placed them on the grill. We dipped the artichokes in a quick lemon-garlic mayonnaise sauce with added capers for some Mediterranean flair.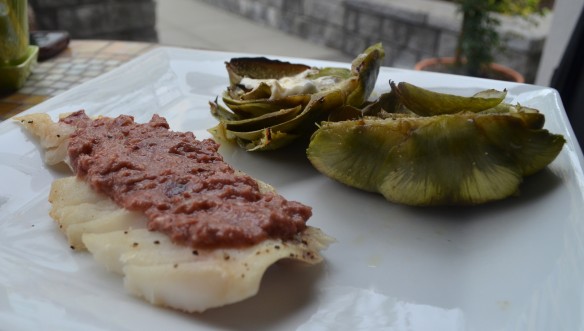 While I personally really enjoy artichokes, Dustin doesn't care for them as much. However, given the opportunity to coat the veggie with layers upon layers of aioli, I think he might have changed his mind about artichokes!