Lofthouse-Style Sugar Cookies with Lemonade Frosting
Also known as those addicitve, soft,  grocery store, sugar cookies, decorated with frosting for your favorite holiday, and plenty of ingredients you can't pronounce. I never knew what to call them until now. I also never thought they could be recreated at home, but you can get pretty close. Dustin said the powdery texture of the grocery store isn't quite there with these, but these are light and fluffy just like those cookies, perhaps with an even better texture. And you can pronounce everything in this preservative-free home version. It's seriously scary when you look at the sell-by dates on those cookies, and the date is weeks away.
The secret to keeping these cookies light and fluffy is cooking them quickly at a relatively high heat (400°) on parchment paper (so the bottom of the cookies will remain the same color as the top), and using sour cream in the dough. The original recipe can be found here, but we cut the ingredients down by 1/3 so we weren't drowning in cookies.
First we sifted two cups of flour, 1/3 teaspoon of baking soda and 1/3 teaspoon of baking powder into a large bowl. Next, we creamed together 1/3 cup of softened butter and 2/3 cup granulated sugar with a handheld electric mixer. Once that mixture was fluffy, we added one large egg and a teaspoon of vanilla extract and mixed until combined. Then we added 1/2 cup of sour cream and mixed everything, followed by slowly adding the dry ingredients. The dough will be slightly stickier than your typical sugar cookie dough at this point.
We let this mixture refrigerate overnight. The next day, we preheated the oven to 400°, and transferred the cookie dough to a lightly floured surface. Next we rolled the dough out to 1/4" thick and used a round 2" cookie cutter to cut out the cookies in perfect, even circles.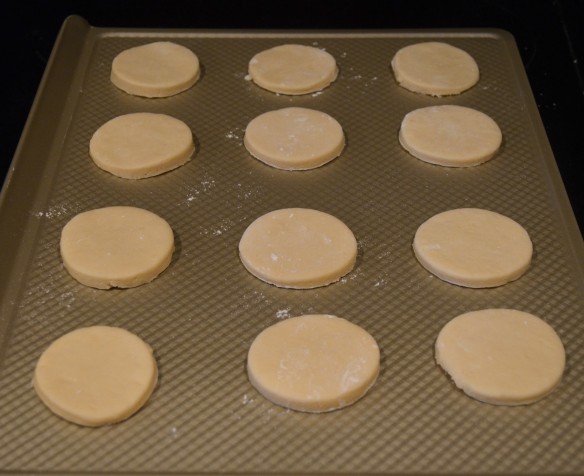 The cookies should next be placed on a parchment paper lined baking sheet (I actually forgot this— darn!) and baked for 6 1/2 minutes. The first of tray of cookies I baked for 7 minutes and thought it was slightly too long, so 6 1/2 minutes it is. Transfer the cookies to a cooling rack.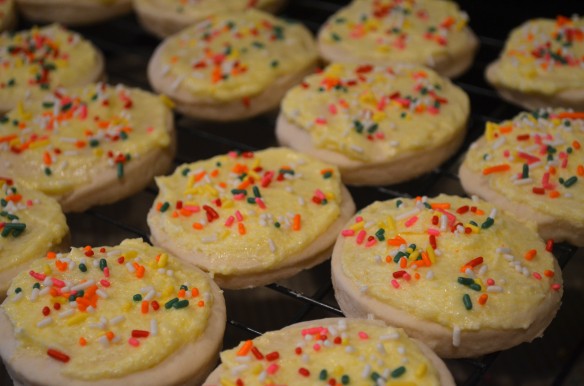 I think you can use pretty much any buttercream frosting on top of these cookies. I wanted to make a lemonade frosting, so what I did was combine a packet of Kool-Aid lemonade concentrate with 1/8 cup of milk and combined it with 1/2 cup of softened butter, whipped until fluffy, and approximately 2 cups of powdered sugar, more or less until the desired consistency is reached. First whip the butter, then slowly add the powdered sugar until it all incorporated, and then finally the milk and lemonade mixture. For a deeper yellow color, you can add a couple of drop of yellow food coloring.
Once the cookies have completely cooled, frost the cookies and decorate with sprinkles.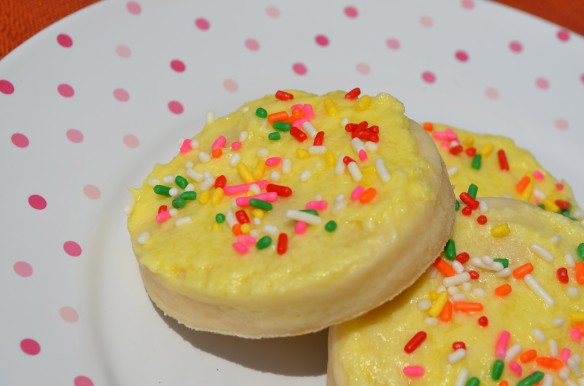 The icing on these cookies is incredibly sweet, but the flavoring of the cookie is very subtle, so the two go very well together. As promised, these cookies are light and fluffy, but they do need a little work to be exactly like the grocery store version (although part of the reason they are slightly different might be due to the lack of weird sounding ingredients). Nonetheless, a nice, light cookie to end a summer's meal.