Mini Cannoli Cups
When I visited my parents in Evansville last month, I ate a delicious cannoli, and it reminded me of this adorable recipe I'd seen somewhere long ago. After a little bit of searching, I found the original recipe for these awesome mini cannoli cups. Cannolis seem like a real pain because you have to fry the shell, but this recipe is all about the shortcuts— using premade, roll-out pie crusts to make the shells.
First, take out the pie crust and sprinkle with cinnamon and turbinado sugar. Then roll out the dough on a lightly floured surface to make the dough even more thin and to press the cinnamon and sugar into the dough. Use a large circular cookie or biscuit cutter (3") to cut out dough circles.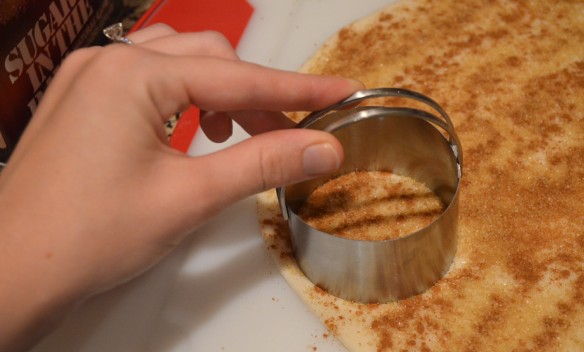 Press the circles into muffin tins and bake in the oven at 425° for 10 minutes.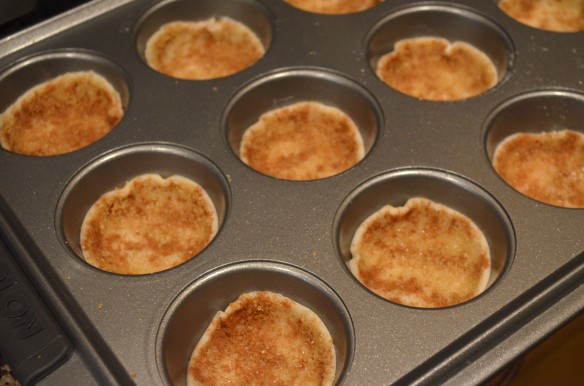 Next comes the filling. The original recipe recommends making the filling earlier in the day and letting it sit in the refrigerator to help the cream thicken up so it will be easier to pipe. To make the filling, combine a 15-ounce container of whole milk ricotta cheese with 1/2 cup of confectioner's sugar, two tablespoons of white sugar, and a teaspoon of vanilla extract. I also added 1/2 teaspoon of almond extract because I think a little almond flavor makes the flavor of the cannoli pop a little more. Put the filling in a large plastic bag and cut the corner of the bag. Pipe the filling into cooled pie crust cups (remember remove them from the cupcake pan first).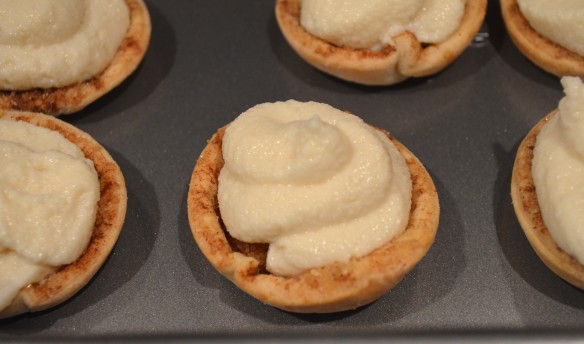 Top with semi-sweet chocolate chips (and some more confectioner's sugar if you'd like, but I forgot).
These petite cannoli cups were a big hit at one of our get-togethers. This recipe makes a dozen, and the five us devoured them all in one sitting. The recipe calls for piping the filling in right before serving to prevent them from getting soggy. I piped them about two hours before eating and put them in the refrigerator so the ricotta would stay cool, and there was no sogginess. But I can definitley see not wanting to assemble these too far in advance.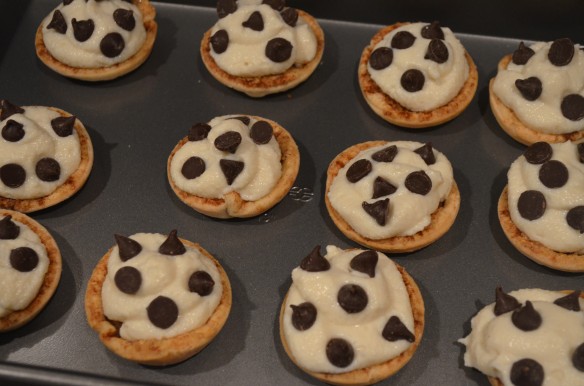 Personally I think these are absolutely adorable and would be a big hit any celebration, especially an Italian-themed dinner party!