Oatmeal Butterscotch Bars
I seriously cannot believe this recipe came from Cooking Light, because oh my god, one tiny little square of this bar feels sinfully indulgent. The butterscotch filling, simply made with butterscotch chips and fat-free sweetened condensed milk is so rich and creamy, you'd never guess you were eating a lighter version. And the oat crust is a perfectly complementing flavor. Serve these slightly warm, and you'll think you've died and gone to butterscotch heaven.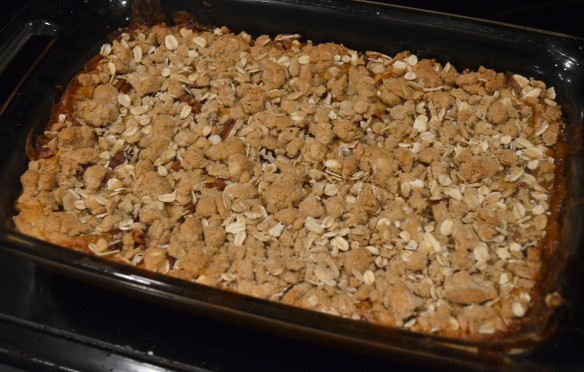 We made the crust by first combining 1 cup of sugar and 5 tablespoons melted butter in a large bowl. Then add 1 egg, lightly beaten, and a teaspoon of vanilla extract. Next, we combined 2 cups of flour, 2 1/2 cups of oats, 1/2 teaspoon of baking soda, and 1/2 teaspoon of salt in a separate bowl before adding it to the sugar mixture. Combine everything with a fork until the mixture is crumbly. Cover the bottom of a 9"x13" baking dish (sprayed with cooking spray) with a thin layer of the oat crust.
Melt 1 1/4 cup of butterscotch morsels (I used my double boiler) and combine with 3/4 cup of sweetened condensed milk and 1/8 teaspoon of salt to create the butterscotch filling. We added in 1/2 cup of pecans (instead of walnuts) as well. Pour the butterscotch filling all over the oatmeal crust and top with the remaining crust mixture.
Bake in an oven at 350° for 30 minutes until the top is browned. Let the bars completely cool before cutting so everything doesn't fall apart on you. They can easily be reheated in the microwave for a few seconds if you want the butterscotch all gooey.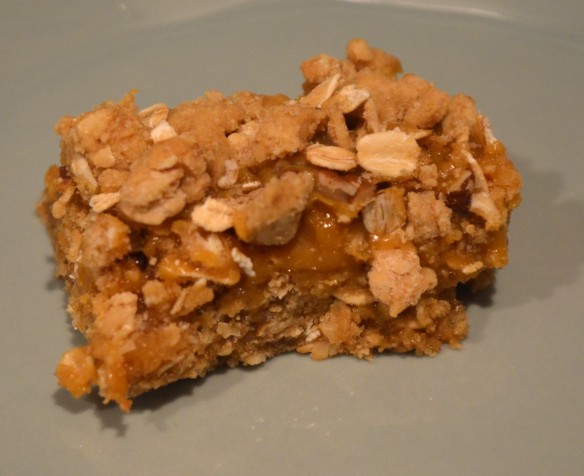 I'm not lying when I say these are ridiculously rich, and even your friend with the sweetest sweet tooth will find one little bar satisfying enough for dessert. I would know, and that doesn't happen very often!