Peach Cobbler
Not being in Texas anymore, I have come to appreciate how lucky we were to get such fantastic peaches for fantastic prices. HEB also had such great deals on enormous, juicy, Hill Country peaches. Here peaches are tiny and not quite as juicy (still tasty though), and cost $4 a pound. Ouch. Nonetheless, we bit the bullet and spent a ridiculous amount of money on peaches to make this luscious peach cobbler in addition to blueberry and strawberry pie for our July 4th barbecue. This recipe is another fabulous one from The Pastry Queen Cookbook, and it is ridiculously easy, perfect for a summer cookout.
Literally the hardest part of this recipe is slicing the peaches, which isn't that bad since you get to leave the skin on the peaches.
Preheat the oven to 350°.
Once the peaches are sliced (approximately 3 cups worth), melt a stick of butter over medium heat until it begins to brown and get a nutty smell, careful not to let it burn. While the butter is browning, combine one cup of granulated sugar, one cup of flour, one tablespoon of baking powder, 3/4 cup of milk (I even used nonfat), and a pinch of salt in a medium bowl.
Once you've browned the butter, pour it into a 9" square baking dish then cover the butter with the sugar/flour/milk mixture, but do not stir. Create a layer of sliced peaches on top.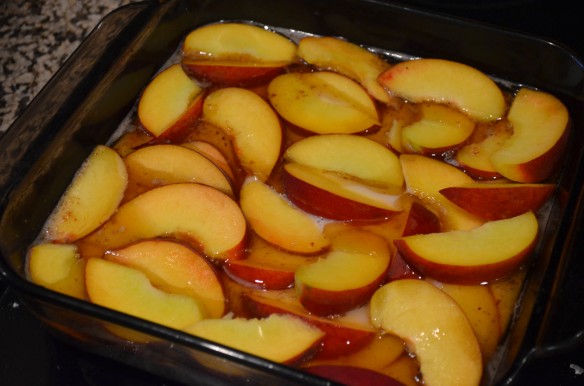 Sprinkle 3/4 cup of brown sugar on top of the peaches followed by a generous dusting of cinnamon and a pinch of nutmeg.
Bake the cobbler for approximately 45 minutes until the top is golden brown and you see everything below bubbling up. The mixture beneath the peaches will rise up and create a wonderful "crust." This cobbler reheats well (15 minutes at 200° in the oven), and tastes delicious with a scoop of vanilla ice cream or Trader Joe's Lemon Gingersnap Ice Cream for something a little more complex. It can also be served at room temperature if you feel like making it ahead of time and don't want to reheat it in the oven.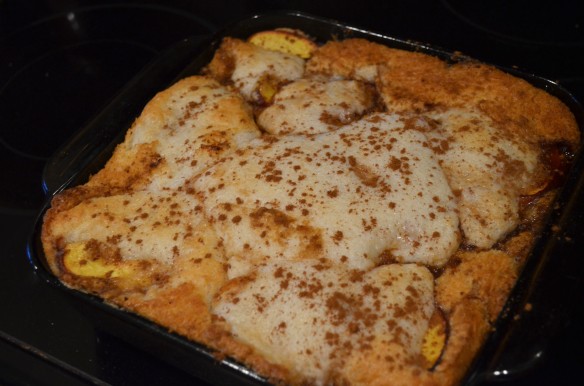 I wanted to take a picture of an individual serving topped with ice cream, but no such luck. This entire cobbler was devoured in one sitting by our July 4th guests. I'm assuming that means it gets a seal of approval!