Raspberry Mojitos
What do you do when the mint plant in your garden is overflowing with fragrant leaves? Make mojitos, of course!
We made classic mojitos in the past, and we've definitely learned to appreciate the art of mojito making. It's definitely a skill to properly muddle the mint; it's not a drink to order at crappy bar for happy hour. This drink requires some love, which is why we made it at home, infused with raspberries since we happened to have those in the fridge.
We muddled approximately eight mint leaves and eight raspberries in a glass alongside two teaspoons of sugar and the juice of a lime.
Next, we put the muddled mixture in a cocktail shaker with lots of ice and a shot of rum. We researched the proper rum to use in a mojito, and couldn't really find a consensus on whether you should use light rum or a dark, spiced rum. We had dark rum, so that's what we used.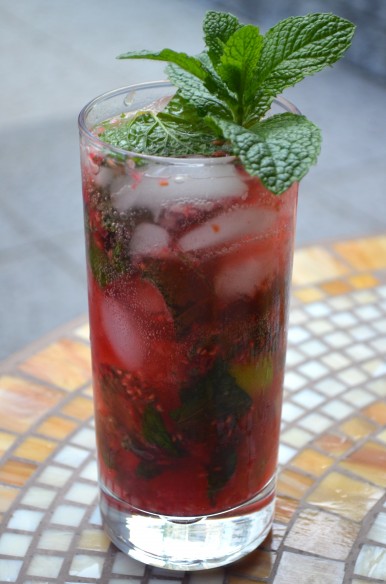 We vigorously shook the drink and strained over ice into tall glasses. Garnished with mint, a lime wedge, and fresh raspberries, this is the perfect to cocktail to consume after taking Bonnie for a long walk during these two months of the year where we actually are getting nice weather!
Speaking of Bonnie, I thought I'd share this cute picture of her. Look at those ears!