Skirt Steak & Squash Tacos with Goat Cheese & Chimichurri
Ever since I saw this recipe for skirt steak with squash, chimichurri, and goat cheese on 20 Something Cupcakes, I could not stop dreaming about this flavor combination.
We grilled the skirt steak outside one glorious Seattle evening, but we made a notable change to the chimichurri, making it the traditional way with pasrsley. Dustin really enjoyed it, but me not so much. Whenever I think of chimichurri, I think of the chimchurri from Churrascos accompanying a perfectly cooked steak, and I've never been able to replicate that taste and texture as hard as I may try. Maybe chimichurri should be left to the South American experts.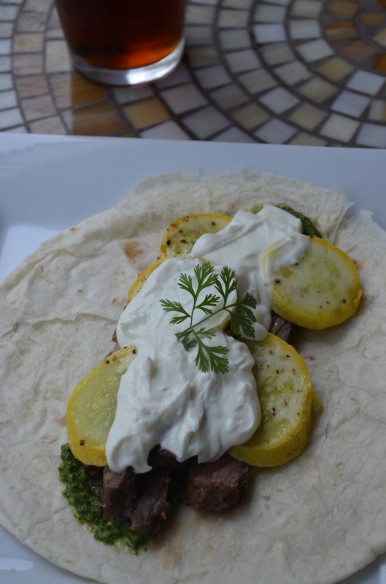 For the goat cheese cream, we simply warmed two ounces of goat cheese and mixed it with equal parts low-fat sour cream. All wrapped up in a warm flour tortilla, these flavors blend so well together. I really like the addition of squash to my taco, although Dustin preferred eating his on the side.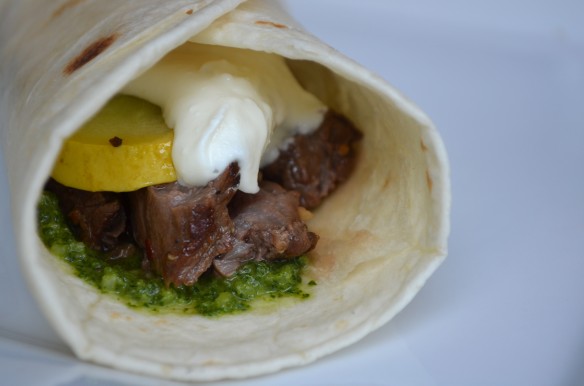 Just looking at that skirt steak taco is reminding me of Texas and how badly I am craving real fajitas from a good Tex-Mex restaurant! I can't believe it's only been a few months since my last fix. I guess I'll have to plan a trip back to Houston soon to cure that!