Southern Comfort Apple Pie
Nothing says America or fourth of July like apple pie. Nothing makes an apple pie better than adding Southern Comfort. Seriously this SoCo apple pie from The Pastry Queen cookbook— by Rebecca Rather of the now closed Rather Sweet Bakery and Cafe in Fredericksburg, Texas— might be the best apple pie on the planet. It is by no means your average apple pie.
There is such depth of flavor in each bite. The crust is buttery and crunchy. The Southern Comfort in the filling creates a gooey caramel sauce that covers the apples. Then every bite is topped off with a nutty, sugary crumble. This pie, hot or cold, is a little bite of heaven in your mouth. Don't think about how much butter you are consuming. Just enjoy it!
Now for a little backstory on this pie. I really like it's Houston roots! Apparently the recipe comes from Tony's Restaurant in Houston via Mark Cox, now the chef at Mark's American Cuisine in Houston, both restaurants we wanted to try for special occasions but never got around to back when we were in Texas.
First, begin by making your pie dough. We followed the recipe in the book. It was good, but I wasn't blown away. I think I'll try a different recipe in search of the perfect pie crust (I've found one using vodka!). I recommend using your favorite or just a pre-made pie crust, as the real star of this show is what's in the middle. Roll out your dough and place in a 9" pie pan.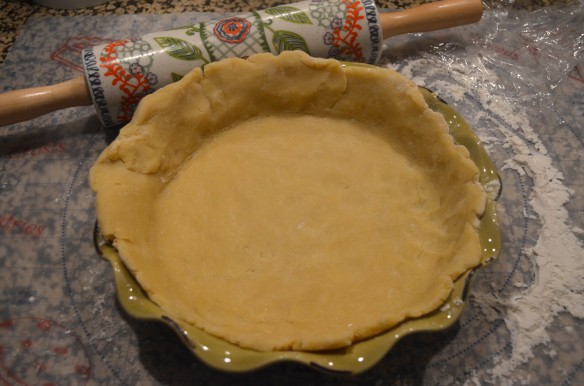 Next, chop 1/2 cup of pecans, and toast them in the oven at 350°.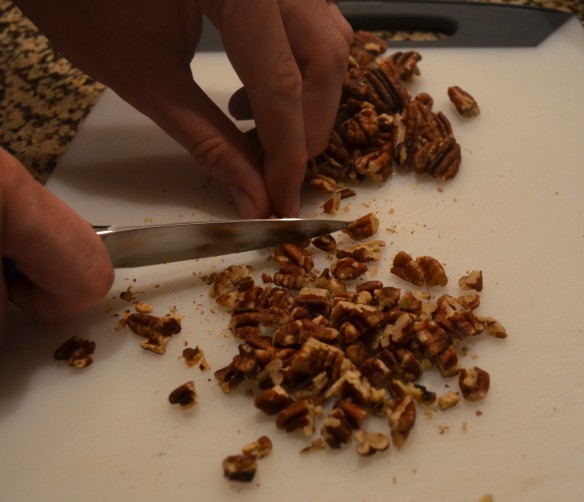 Then we made the delicious crumble by combining 1/3 cup granulated sugar, 3 tablespoons of firmly packed dark sugar, 1/2 teaspoon cinnamon, 1/4 teaspoon salt, and 1/3 cup of chilled butter in a food processor and pulsing a few times until it looks like the picture below.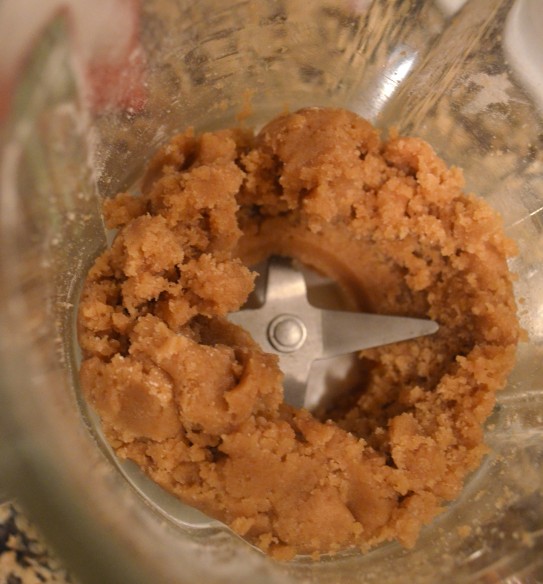 Begin cooking your apples in 1/2 cup of butter, melted, over medium heat. We used six medium-sized Granny Smiths, peeled, cut, and cubed, but any tart apples work. The cookbook suggest Braeburn, Cortland, and Winesap, but our apple selection was slightly limited since we were shopping at Costco in bulk this particular week. Sauté the apples for 8-10 minutes.  Combine 3 tablespoons cinnamon and a cup of sugar in a small bowl and cover the apples with the mixture and cook for a few minutes longer. Remove the apples from the skillet using a slotted spoon to leave as much of the buttery cinnamon sugar goodness in the pan as possible. Place the apples on a plate and do NOT pile them on top of each other or you'll get icky, soggy apples.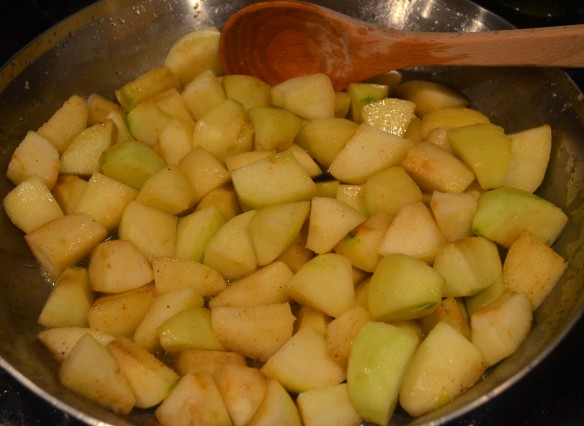 Add 3/4 cup of Southern Comfort to the skillet and cook until the alcohol burns off, 10ish minutes. A little trick the book notes is that if you smell the mixture and you feel a burning sensation in your nose, there is still alcohol in there. Add 1/2 cup of heavy whipping cream and cook for another 10 minutes until thick as caramel. Place your cooked apples back in the skillet and coat them with the Southern Comfort cream mixture.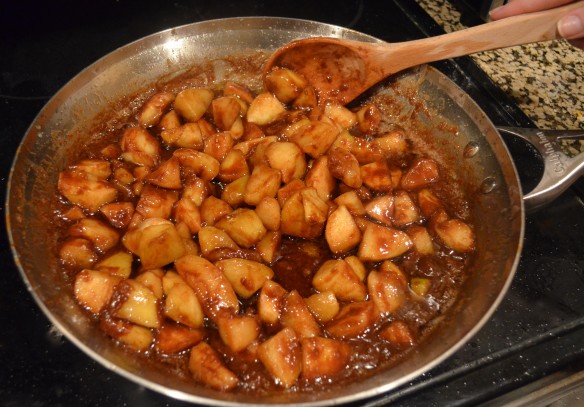 Put the filling in the pie crust and resist the temptation to gobble down the delicious mixture.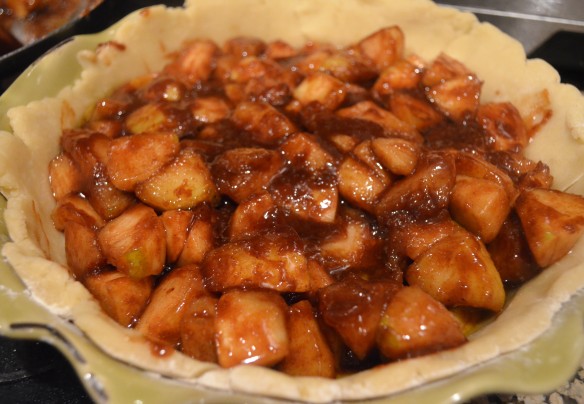 Add the crumble and the pecans to the top and bake until the topping is browed, and you see little bubbles oozing from the apples beneath. It took our pie approximately 55 minutes to reach perfection.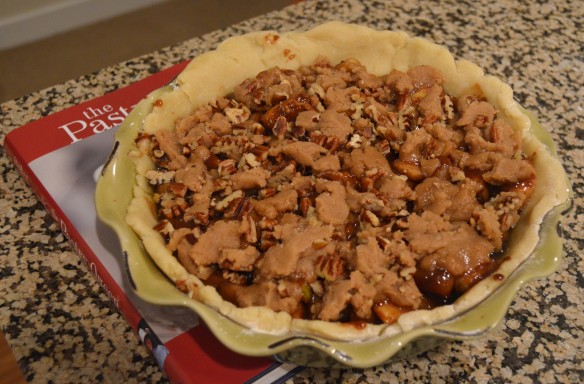 While it almost looks more like a pecan pie, trust me, this pie is all about the apple filling sitting just below that crumbly pecan surface.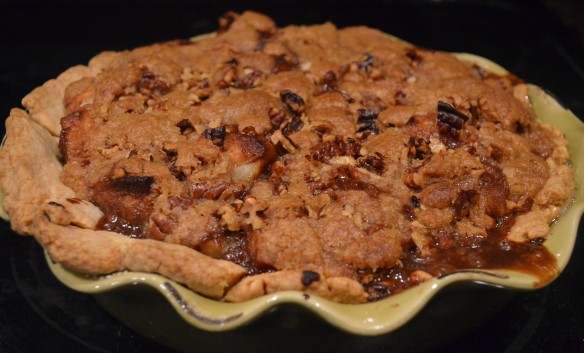 For one eating, we served a slice warm with a scoop of Beecher's cheddar ice cream (not as crazy as it sounds), a seasonal flavor from Seattle's favorite local ice cream shop, Molly Moon's. The cheese flavor of the ice cream was subtle and when it melted over the warm pie, it was like a party in your mouth! For another eating we served it room temperature, and it was just as good.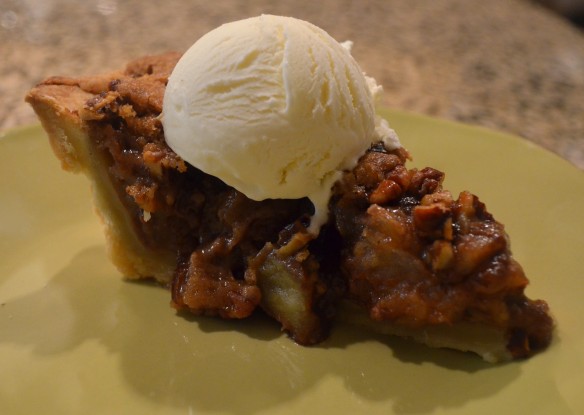 Drool!