Spinasse
We had one of the best restaurant meals we've had in a really long time at the lovely Cascina Spinasse in Capitol Hill. If you read the reviews on Yelp, you'll read tons of praise for this restaurant, and based on our experience every complement received is totally deserved. According to their restaurant description, Spinasse serves up fresh "interpretations of the traditional cuisine of the Piedmont region of Northern Italy." All of the dishes were about clean and simple flavors and fresh, quality ingredients— a staple of classic Italian cuisine.
We were seated early before a show (the comedy One Slight Hitch by Lewis Black) at the ACT Theater, and started off our evening with a bottle of chardonnay. The atmosphere of the restaurant was nice and intimate— simple with wooden accents— and not pretentious at all. It's definitely the type of restaurant you can step into, relax with a glass of Italian wine and enjoy a multi-course meal.
The service at Spinasse was great as well. Not overbearing, but as soon as your glass of wine was running low, it was magically refilled. As soon as you were finished with a plate, it was swiftly removed from the table.
We shared several courses for our dinner— an antipasti, a primi, a secondi, and of course, a dessert.
For our antipasti, we were having a difficult time selecting something from the menu. Everything sounded good, but nothing was jumping out at us. At this point our server came up and offered an antipasti special. It was an asparagus flan covered with a fontina cheese sauce alongside slices of bread and breadsticks. The special sounded so unique that we just had to order it. We weren't really sure what to expect, but this is what we got...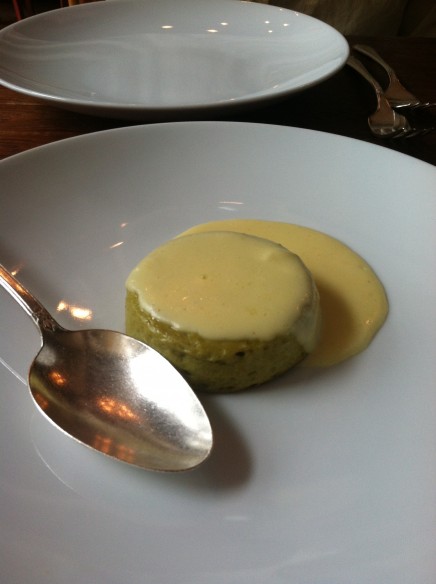 It was delicious spread over the bread, almost like a butter with a slight asparagus flavor, but not at all overpowering. We spooned the fontina sauce from the side on top of the spread, which really elevated the dish. Definitely a different and clever way to eat veggies!
For our primi, we ordered the tajarin al burro e salvia, or in other words, fine hand cut egg pasta with butter and sage. I'd seen this pasta dish highlighted on a cooking show and knew I was going to have to place an order. It did not disappoint. All of Spinasse's pasta is cut in-house, and you can really taste the freshness. There was nothing complicated about this dish, but there is no other way to describe in than absolutely perfect. Each little bite was a bite of buttery heaven. If this was the only thing I got to eat all night, I would have left Spinasse's dining room a very happy camper.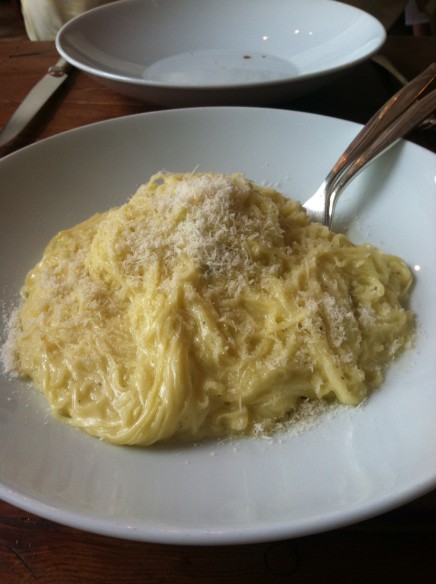 Our secondi was the polpette di coniglio, or in English, rabbit meatballs wrapped in caul fat, with caramelized turnip puree and pickled horseradish condiment. We forgot to take a picture of our the meatballs before we started digging in. Oops! But trust us when we say the presentation was great. The meatballs were moist and the horseradish condiment was a great balance to the rabbit, flavorful, but not overwhelming as horseradish tends to be.
We didn't have much time before we had to leave for the theater, but we did manage to squeeze in a dessert before we left— mousse di formaggio di capra— a sweet goat cheese mousse with rhubarb gelatina and ginger crumble. Served in a cute little jar, the goat cheese mousse was so light and delectable, and the accompaniments were a great blend of sweet and tart. Goat cheese isn't something you necessarily think of as a staple dessert ingredient, but Spinasse has convinced me that with the right preparation it can be. Next time I see a goat cheese dessert, I think I'm going to have to give it an order.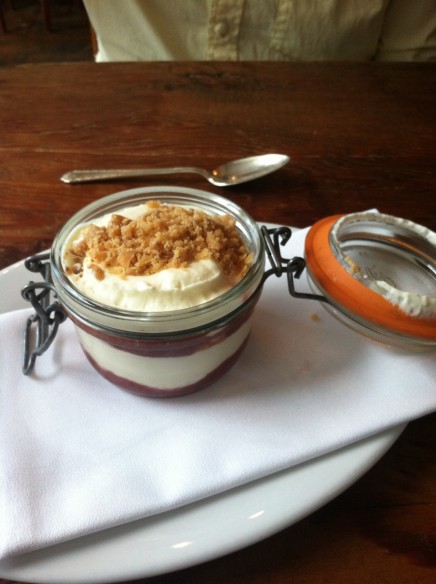 Without a doubt, we cannot wait to head back to Spinasse. They have a few staples on their menu, but they do change dishes seasonally, so we'll have to head back in the fall or winter!