Strawberry Lemonade
Summertime is officially here in Seattle! The sun is finally out, and we are hitting temperatures in the mid to high 70s on a regular basis, the perfect summer weather, especially compared to what the rest of the country has been experiencing. I guess all we had to do was wait 10 months to get it.
In celebration of summer I made freshly squeezed strawberry lemonade to enjoy on our comfy patio chairs. There really isn't a more perfect or refreshing summer drink than strawberry lemonade.
To make this strawberry lemonade, I made a simple syrup on the stove consisting of one cup of water with half a cup of sugar dissolved into it. I also squeezed the juice of eight lemons, which yielded a little over a cup of lemon juice.
I combined the simple syrup, the lemon juice and an entire pint of strawberries in the blender and blended until everything was smooth. I poured the mixture into a pitcher, added approximately three cups of water (until the pitcher was full), stirred the mixture, and put in the fridge to chill.
This strawberry lemonade has significantly less sugar (though still a lot) than a lot of the recipes I saw out there. Many similar recipes used similar amounts of strawberries and lemon juice, but they contained twice as much sugar. I figured this lemonade didn't need nearly that much sugar since the strawberries should provide plenty of natural sugars to complement the tartness of the lemon. I think this ratio of ingredients worked really well. It was definitely sweet, but not overly so, and you could still taste the lemon cutting through. You can even spike your lemonade with a shot of vodka to make this into a cocktail, and you can barely taste it. Not that we would know or anything.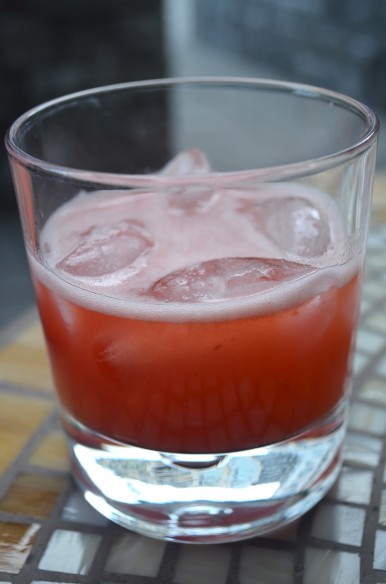 A great way to cool off on a hot summer's day!