The Walrus and Carpenter + Hot Cakes
We've only been there a couple of times, but we think our favorite neighborhood in Seattle might be Ballard, home of both The Walrus and the Carpenter and the new Hot Cakes Molten Chocolate Cakery.
We ventured out to the other side of Seattle one cloudy Saturday afternoon to explore this new-to-us neighborhood. We began taking pictures of all of the delicious looking restaurants we want to try as we walked down the street! But we couldn't be distracted from our two main stops.
First, we got oysters, small plates and drinks at The Walrus and Carpenter. This tiny, hole-in-the-wall restaurant is said to have the best, freshest oysters in Seattle. Dustin and I don't know a whole lot about oysters, but after our experience here, I'd believe the hype. We first decided we wanted to hit up this place last summer after is was written up in an article about where to dine in Seattle by The New York Times. A year later we finally made it. The thing about this place is that it is small, so you'll most likely have to wait quite some time for a table. But it is worth it.
We got there a little before 4 (opening time) on Saturday. I told you we were serious about wanting to eat here. We didn't drive all the way out to Ballard to possibly not be able to eat there. We found the small, rather inconspicuous sign, walked through the door, down a hallway to the back side of the building where the entrance to restaurant is. Before the restaurant even opened there was already a line that had formed, so we dutifully joined in.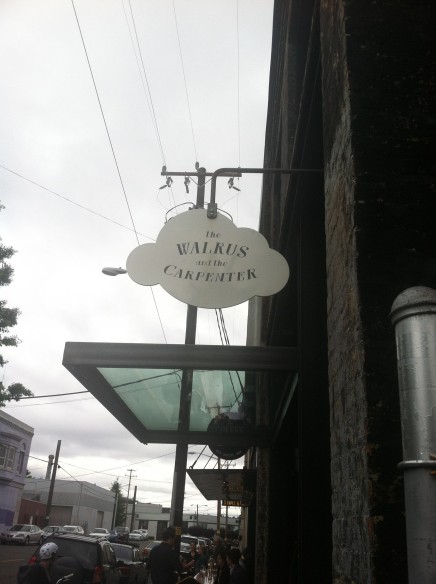 By the time the restaurant actually started seating people at opening time, there were more people than seats. People who got there before opening time actually had to wait for a table. This place was really casual and laid back with a really cool antler chandelier hanging from the ceiling. We were seated at the bar, near where the fresh oysters are kept and where we could see a lot of the interesting work going on in the kitchen. It was fun to watch the expert oyster shuckers at work and some of the behind-the-scenes action. The oyster selection varies and the prices of the oysters change depending on the market, but we were told none were more than $3, which isn't all that bad for oysters. I'm not sure which oysters we got because we just asked the oyster expert to pick three kinds of oysters and give us a dozen. I heard him say he picked the best looking ones for us to try! It came with a champagne mignonette and some sort of housemade horseradish condiment. I was a fan of the mignonette, but preferred my oysters without the other condiment. Either way we enjoyed slurping down the slimy oysters!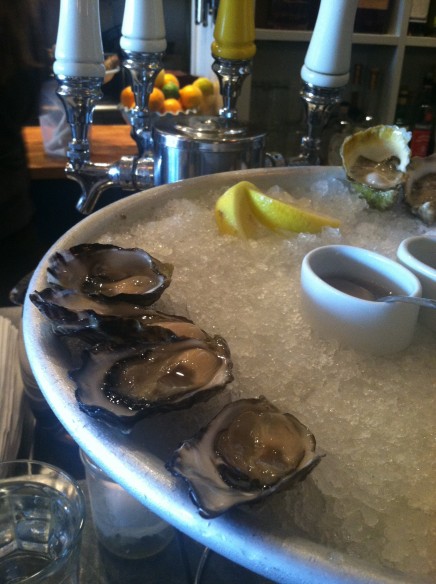 We debated getting some more oysters, but we decided to order off of the actual menu instead. Based on reviews I read, the scallop tartare with lemon cream, pepper, and basil is apparently really popular, so we went with that and a dish that sounded incredibly interesting and unique— a house-cured goose proscuitto with pickled blueberries and mint. The scallop tartare was excellent— like sushi with a little something extra and super light and fresh feeling. The goose proscuitto was really tasty as well and paired ridiculously well the blueberries and the reduction sauce. Apparently blueberries go really well with gamey meats, for your information.
We wanted to order more, but since it was so early in the day, we weren't super hungry (and we were saving room for lava cakes!). We decided we'll just have to trek out to The Walrus and Carpenter again and try out some more of the small plates, and of course, oysters.
We walked down to the recently opened Hot Cakes Molten Chocolate Cakery.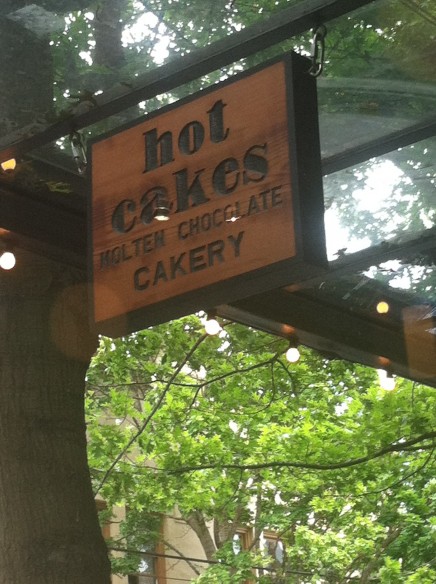 Originally the business started out as a high quality take-and-bake-lava-cake-in-a-jar sold at local farmer's market. It was so successful that it turned into a full fledged store front. We sampled some of their delicious homemade caramel sauces at the front of the store, and decided to buy a jar (extra salty is definitely the way to go), as well as some of their alder-smoked chocolate chips that I think would be delicious in some maple bacon chocolate chip cookies.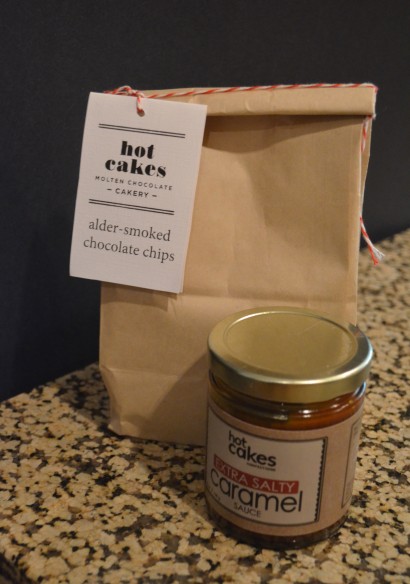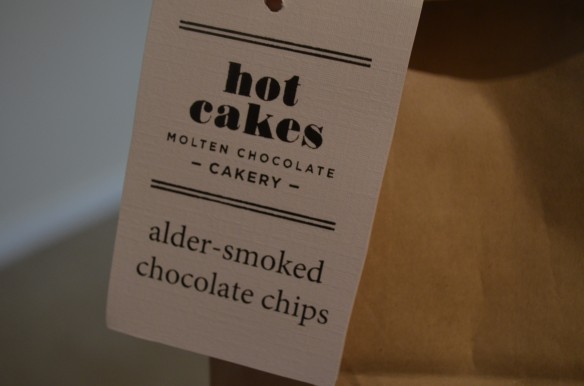 We ordered a classic molten lava cake at the counter with ganache to enjoy in the shop (salty caramel is also available). You can still buy the cakes and take them home, but you can also eat them in the cakery where they'll make 'em all lava-y for you. The chocolatey cake with an ultra-gooey molten center is a perfect, moderate size dessert for two (or a hefty dessert for one) served in a cute jar with whipped cream and a sweet and crunchy crumble on top. It is ultra-rich, so it is really perfect to be shared. There were some delicious looking extra large cookies (made with the smoked chocolate chips!) and an extra salty cinnamon roll also sitting behind the glass, but we realized it was better for our health to stick with one dessert. Totally worth it. We'll definitely be going back!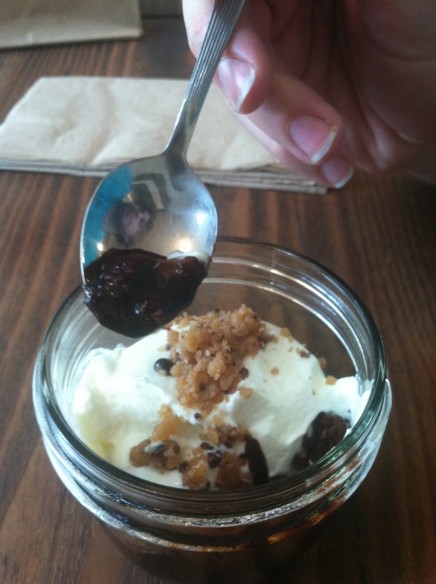 I love how you can see Dustin's face in the spoon!