Tilapia Burger
Tired of red meat and/or poultry burgers? We were too. These tilapia burgers are a great change from your standard burger and have a ton of flavor. They are similar to the fish burgers you can buy in the frozen section at Whole Foods, but are so much tastier since they are fresh.
These are super, super simple to make, modified slightly from How Sweet It Is. To serve two, take two tilapia filets (approximately 2/3 to 3/4 lb total weight) and chop them up very finely (or use a food processor). Combine the fish with an egg to keep everything together, 1/2 cup of panko bread brumbs, and a bunch of spices. We used minced garlic, onion poweder, dried basil, smoked paprika, salt and pepper, and added a chopped jalapeno for a little kick.
Form the mixture into patties and refrigerate for at least 30 minutes to let them firm up. Cook these burgers on your outdoor grill for about 5 minutes a side or until cooked all the way through.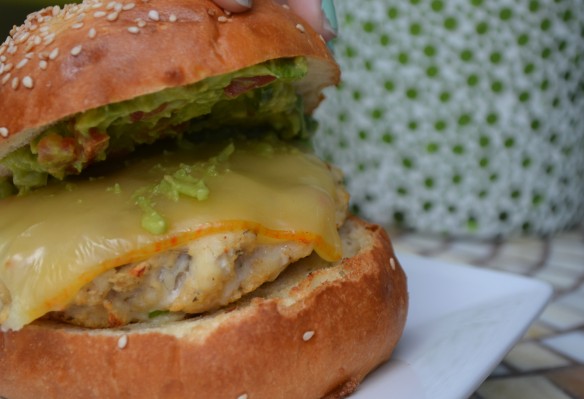 Add a slice of Muenster cheese while it's still on the grill and take the patty off once the cheese has melted. Serve on a toasted bun and top everything with lots and lots of guacamole. Watermelon salsa really isn't our thing, although my opinion on watermelon might be changing after the delicious juicy slices we were served on July 4th. Most of the time watermelon tastes just like, well water, but this watermelon we had was surprisingly flavorful. Stay tuned to see if Dustin and I try to experiment with watermelon in the future...