Blueberry Chicken + Coconut Rice
Grilled chicken marinated in a blueberry sauce served upon a bed of coconut rice? Sounds a little crazy? But it totally works despite the chicken being a slightly funky-looking color.
The recipe comes from How Sweet It Is, and I think represents the first time that Dustin and I haven't screwed up rice. From now on perhaps all of my rice should be cooked in coconut milk because it blew my mind with flavor and came out perfectly, despite not needing to go quite as long as the original recipe called for.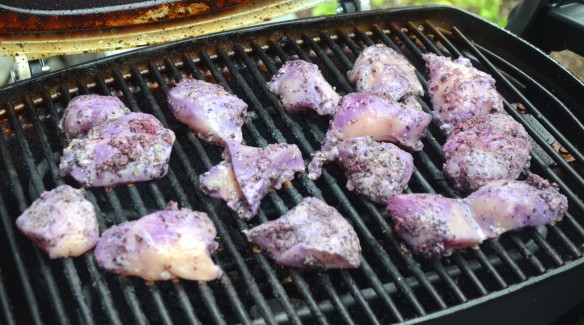 First, we grilled the chunks of chicken that were marinated in a sweet and savory blueberry sauce (1 cup of blueberries, 2 tablespoons of olive oil, 1 tablespoon of red wine vinegar, 2 cloves of garlic, the juice and zest of a lime, and a small handful of basil combined in a food processor until smooth). This might be some of my favorite grilled chicken ever.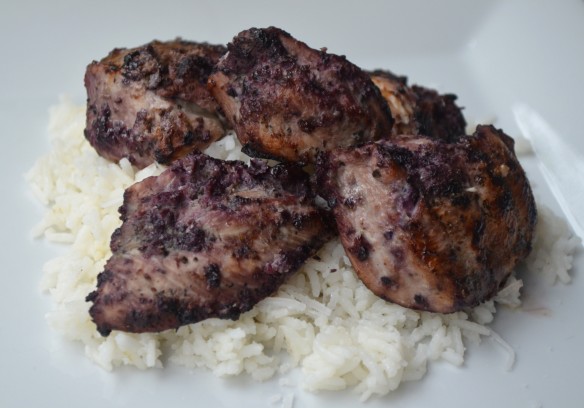 And seriosuly the coconut rice blew my mind. It was so coconutty and absolutely freaking delicious. All I did was cook a cup of jasmine rice with a cup of lite coconut milk and 1/2 cup of water for about 12 minutes. Then I added in 1 tablespoon of coconut oil and a sprinkling of shredded coconut. This might be the easiest (and tastiest) dinners that has been cooked in this house in a long while.