Brown Sugar Chicken Wings & Red Pepper Goat Cheese Sauce + Cheesy Corn Dip
Football season is right around the corner, and we are so excited in this house. We are actually going to be able to watch a few of the Texans games at our house this year (instead of having to go out to a place with NFL Direct Ticket for brunch every Sunday) since they will be featured in some nationally televised games this season (Jets, Packers, Bears, and Patriots, oh my)! Not that we don't love going out for brunch to watch football. It became a great ritual last season, and surprisingly, I really like not having to wait until noon for kickoff! But sometimes you just want to eat your own food while watching football. I have found all these great recipes that would be great for a day of watching the Texans dominate the AFC South that I can't do. So you can bet when we watch the Texans at the Jets from the comfort of our home during week 5, we will be enjoying something along the lines of these brown sugar chicken wings dipped in red pepper goat cheese sauce!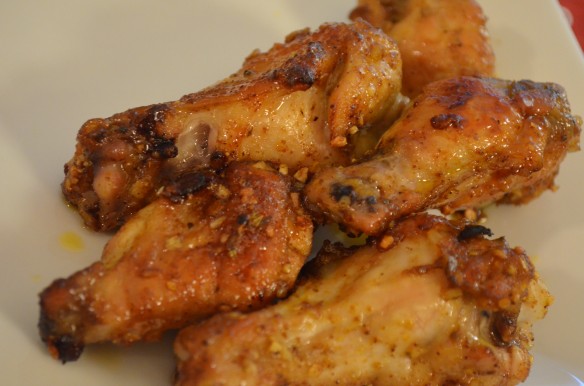 Chicken wings are a staple of football cuisine, and these are relatively healthy! The wings themselves are a combination of sweet and savory and the goat cheese sauce also has a little bit of sweet and spicy kick from the red pepper as well as some tang. The best part is that these wings are super easy. The hardest part is remembering to roast the red pepper before everything else is ready to me made. After that, all you have to do is coat chickens wings with some olive oil, throw them in a bag with some spices (onion powder, garlic powder, smoked paprika, salt and pepper) and bake in the oven until the skin is crispy (about 12 minutes at 425°). While the wings are baking, combine two ounces of goat cheese with 1/3 cup of roasted pepper (although you would not be remiss in doubling the amount of sauce because it's such a delicious thing to soak the wings in).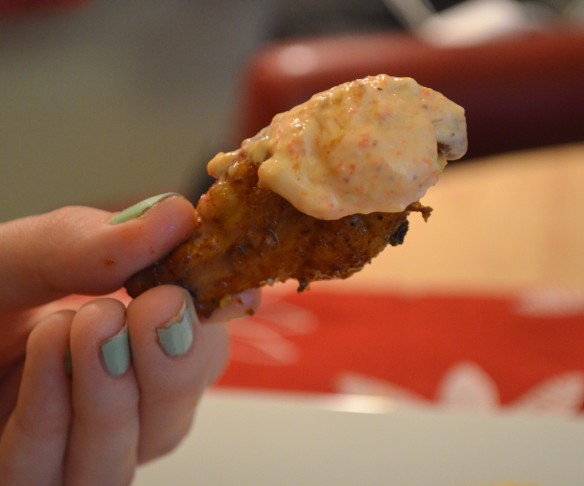 We served this alongside tortilla chips and a cheesy corn dip while the summer crop of sweet corn is still fresh in the stores. The dip is really creamy and uses a Greek yogurt base, so it's kind of, sort of healthy.