Cook Off Part 1: Risotto
Challenge accepted. Not seconds after this Barney Stinson response was uttered, were the plans being drafted. A true challenge had been offered and accepted by Chris and I, and therefore, it was the duty of the other three participants to quickly flesh out the details. They badgered and haggled and finally we all came to an agreement. Before we arrive at the actual challenge, the goodies of winning must be first stated. Although a Slapsgiving might have been better, we settled on a $50 pinot noir for the winner.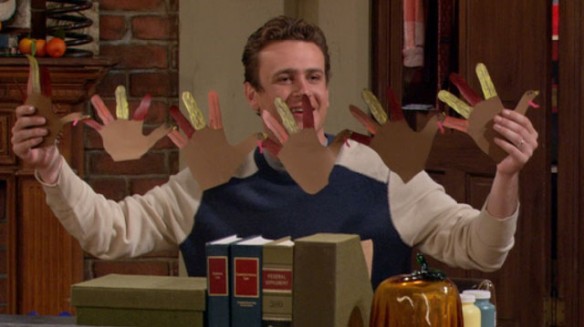 Now, the challenge itself— a Chopped VS match spread out over three events.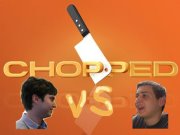 Note that the fabulous Photoshop work done by one of our judges, Joan. So let's explain this challenge and get down and dirty. There was going to be an even at each of the challenger's houses, in their own kitchen, wherein both contestants would cook a meal chosen by the home team. The Cook Off Part 1 took place at Chris's apartment, and the Italian man chose a dish from his own homeland— risotto.
The following week would take place at my apartment, and the two of us would make a dish of my choosing. And finally, the last battle would take place at the other judges' apartment with no chosen meal, but instead 3 ingredients that must all be present in the dish.
But this is only the Cook Off Part 1, so I must only focus on the first bout.
When Chris formally announced risotto, all I could think was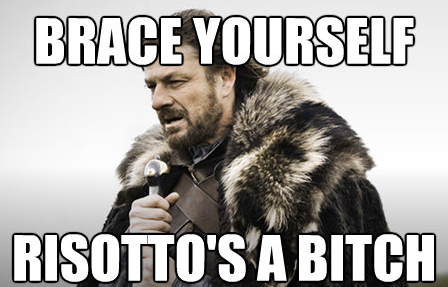 So I had to practice, and learn the art. But not only did I have to make Risotto that was not overcooked, undercooked, burnt, disgusting, etc, I would also be competing with Chris in three categories: Taste (50%), Creativity (35%), and Presentation (15%).
Early on I decided, I wanted to put seared scallops atop my risotto. This was a tricky thing though. Erin and I had never once made a really good seared scallop. But internet long enough, and you can learn how to do anything. The trick: buy fresh scallops, pat them dry really well, and then cook them really fast on a super hot pan. I also had to research deeply into Risotto too. I read dozes of webpages on Risotto technique and style. Finally, I decided on my dish. A Creamy Parmesan & Chardonnay Risotto with Seared Sea Scallop, Grape Tomatoes, and Thyme.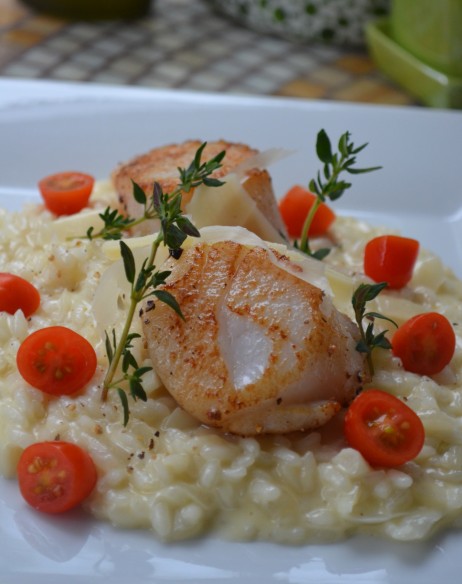 Chris cooked up the Lover's Risotto, basically an excuse to mix yummy tomato sauce and heavy whipping cream into excellence and then pour that over sautéed shrimp and a brandy risotto.
They were both delicious. So delicious that our work-for-free (but get to eat tasty food) judges couldn't pick a winner. We tied fifty-fifty. Chris won on flavor, while I took home presentation and creativity.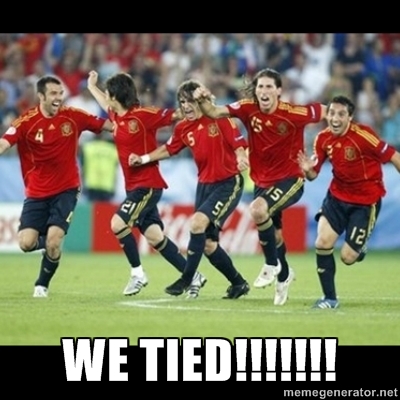 We must continue onto Cook Off Part 2 to see who could push ahead for the lead.