Homemade Arugula Pesto Pasta
It's no secret how much we love pesto in this household, so when I saw a recipe for arugula pesto from Baked Bree, I was pretty excited to try a new variation with arugula and walnuts as the pesto base.
I used the recipe I found as a guideline because I much prefer to just dump ingredients into the food processor and taste until my concoction reaches perfection when I make pesto. I began with arugula as the main ingredient followed by significantly less flat leaf parsley and some basil (because I couldn't completely omit basil from pesto). I added parmesan cheese, olive oil, lemon juice, and a combination of both walnuts and pine nuts (since we had some leftover from Dustin's stuffed duck breast).
Since we were sticking with such a simple topping, we made homemade pasta again because the freshness of the pasta really makes all of the difference in this meal.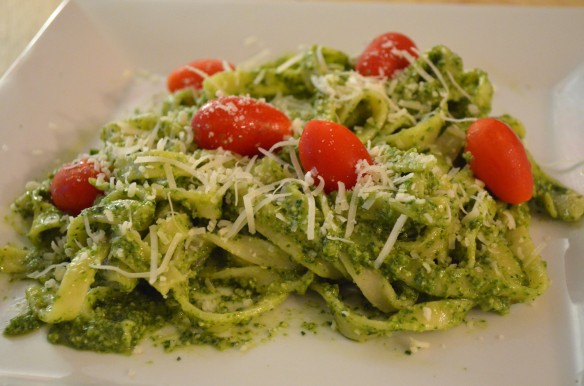 We topped everything off with some grape tomatoes and more shredded parmesan for a fresh meal, completely free of any processed ingredients, alongside a glass of crisp pinot grigio.