Perfect Blueberry Muffins
Calling any muffin the perfect muffin is a big claim. Probably every blueberry muffin recipe you read describes it as the perfect blueberry muffin, but I did some research (and so did America's Test Kitchen) to find the ultimate blueberry muffin because I have been craving a fluffy muffin with plump and juicy blueberries for some time now. These may not look like anything special yet, but these muffins have a few special tricks up their sleeves, and these little extra steps take them from good muffins to outstanding muffins.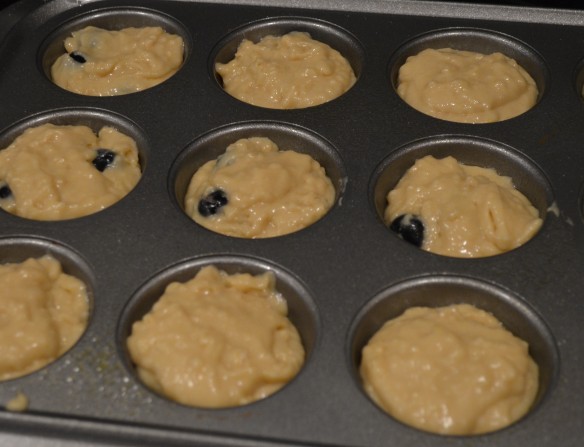 Dustin described these muffins as "happy muffins" because they are large, bakery-style muffins with a perfect crumbly topping and a soft, tender crumb. Dustin has two reactions for when I make things. To the majority of the items passing from my kitchen, Dustin praises me and then goes on to eat whatever I have made him, usually going back for seconds. But occasionally I will make something Dustin claims as the best ever and he CAN NOT stop talking about it. He proclaimed these the best muffins ever, which is high praise because we have shared many a delicious muffins together throughout the years, inside and outside of our own kitchen. After he snacked on one barely cooled from the oven, he proclaimed he was ready to go to bed because he was so excited about waking up and eating these muffins for breakfast. Each time he bit into one after that he stated I have to make all my future muffins like this one from now on. I guess I have a new base muffin recipe!
So what makes a perfect blueberry muffins? First and foremost, the key to the perfect muffin is using buttermilk, not regular milk or yogurt. It also involves not overmixing the ingredients, so you don't end up with a tough, dense muffin by releasing too much of the flour's gluten. For your information the proper amount of time to mix the sugar and butter together when making a muffin is 80 strokes at a medium pace (equivalent to about 45 seconds if you are using an electric mixer on a low speed), and you should only fold in the sifted flour until just barely combined (so you actually have some  small dry bits of flour in the batter). You really don't want a crumbly muffin, but rather a nice fluffy texture. Too many blueberries can add extra weight and moisture to the muffin, so this ultimate blueberry muffin combines fresh blueberries with a blueberry jam swirled on top to create a very delicious muffin top (the good kind), if I may say so myself.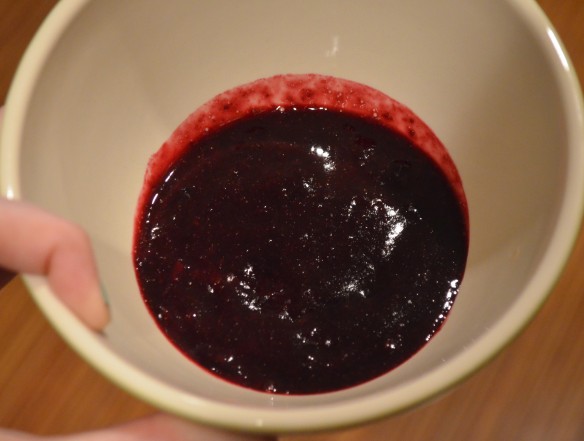 I may have put a little too much jam on top of each muffin...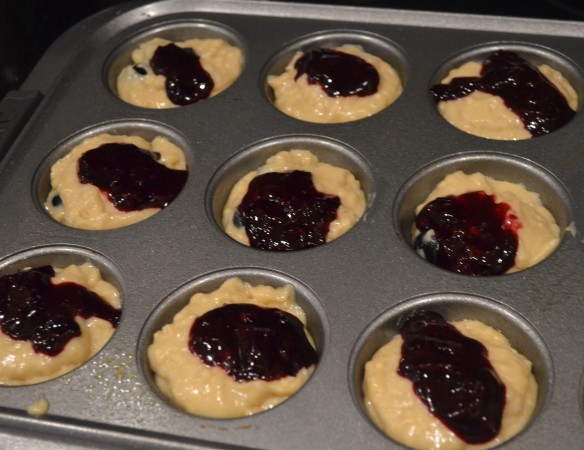 Because my swirl wasn't nearly as pretty as the swirl I saw in other pictures. But whatever. These muffins were amazing.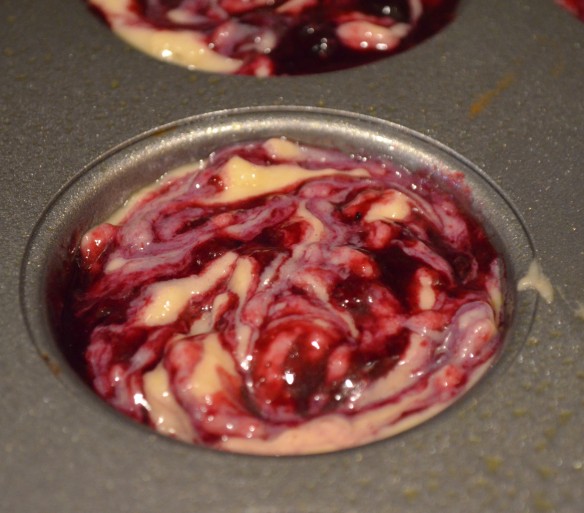 So here it is in all it's glory— the recipe for the perfect blueberry muffin!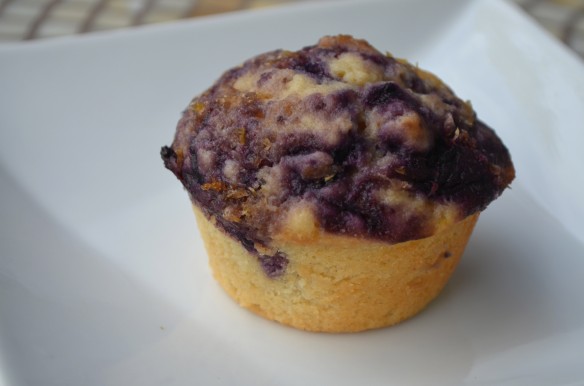 Perfect Blueberry Muffins
(slightly adapted from America's Test Kitchen— makes 12 large muffins)
Topping
zest from one lemon
1/3 cup turbinado sugar
Muffins
2 cups fresh blueberries
1 1/8 cups granulated sugar, plus one teaspoon
1 ½ cups all purpose flour
1 cup whole wheat pastry flour (I substituted this for more all purpose flour to add in a little more nutritional value)
1 ½ teaspoons baking powder
1 teaspoon salt
2 large eggs
4 tablespoons unsalted butter, melted and slightly cooled
¼ cup vegetable oil
1 cup buttermilk (low-fat works)
1 ½ teaspoons vanilla extract
Begin by making a blueberry jam. Combine one teaspoon of sugar with one cup of blueberries in a small saucepan over medium heat and bring to a simmer. Stir and mash the berries. Allow the jam to cook for 7-8 minutes until it has reduced and a jam has formed. Set aside to cool.
Preheat the oven to 425° and grease a standard sized muffin tin.
Sift flour, baking powder and salt in a medium bowl and set aside.
Using an electric mixer, combine the sugar and the eggs for approximately 45 seconds in a large bowl.
Slowly add in oil, butter and vanilla.
Slowly add in buttermilk until everything is just combined.
Slowly fold the wet mixture into the dry mixture along with the other cup of blueberries until the everything is just barely combined. The batter will be a little lumpy, but that's what you want!!
Using a cookie or ice cream scoop, evenly divide the batter into the muffin tin.
Evenly spoon the jam onto the tops of the muffin into the very center, slightly pushing the jam into the batter (I forgot to do this, so I can vouch they taste good, but the jam won't get into the muffin center at all if you don't). Using a toothpick, swirl the jam with the batter.
Combine the lemon zest and turbinado sugar in a small bowl. Sprinkle on the tops of the muffins. My topping started to sink into the jam, but I think if you do a better job swirling the jam in, this problem will be avoided.
Bake in the oven for 18-20 minutes until the muffins are golden brown. Allow to cool at least 10 minutes before you try to remove them from the pan (if any jam oozed over the side, the muffin will stick to the pan ever so slightly requiring a little extra work to remove it, so you definitely don't want to touch a super hot pan).
These are best enjoyed slightly warm from the oven, but we ate them for breakfast (and sometimes dessert) for the next three days by storing them in an airtight container. Just pop in the microwave for 30 seconds, and you'll get to relive the experience of this perfect muffin over and over again!