Pork Chops with Cherry Barbecue Sauce
It's definitely easy to incorporate cherries into desserts, but highlighting cherries in a savory dish is slightly more of a challenge. However, I think we did a pretty good job in making this sweet and smoky cherry barbecue sauce from Taste of Home (with the only change being the addition of some freshly squeezed orange juice for a little extra acidity).
First we marinated the bone-in pork chops all day in a mixture of orange juice, olive oil and spices— salt, pepper, granulated garlic, minced onion, cumin, and chili powder. The pork was incredibly tender as a result of the marinade. Marinating is such an easy way to impart a lot of flavor into your meat. We really must remember to do this more. Too often we forget in the morning, but it takes almost no time and really helps take the food to the next level.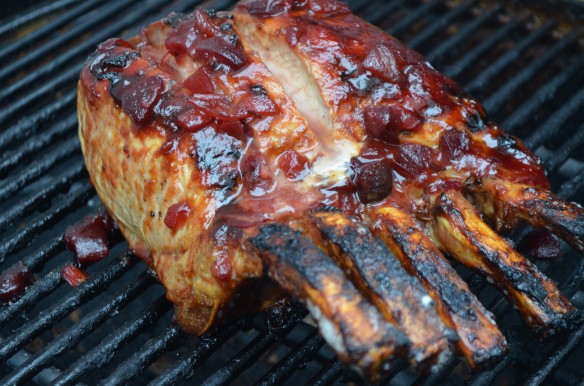 We grilled the pork chops outside, brushing on some of the barbecue sauce while they were still on the grill.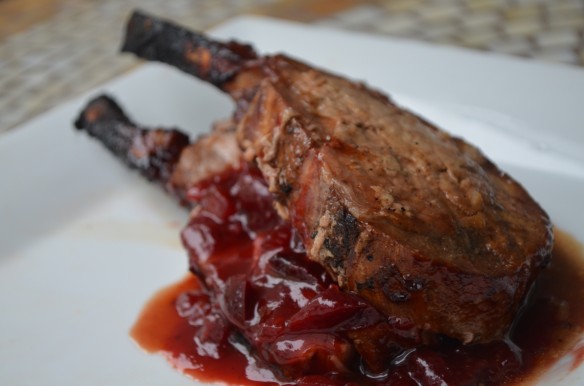 Of course once the pork chops were cooked we doused them with even more barbecue sauce, arguably the star the of the meal.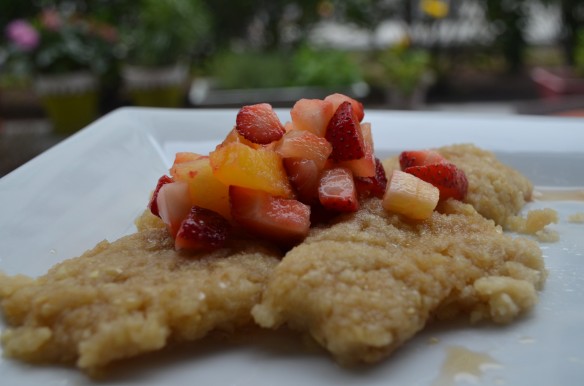 We also tried our hand at deep frying again. These were intended to be sweet corn fritters fried and topped with a brown sugar tequila sauce and pineapple and strawberry fruit salad. The batter was way too liquidy to fry and the "fritters" basically just absorbed oil. Nonetheless they were tasty, but I don't think I'll share the recipe for obvious reasons. For all the success we've generally had in the kitchen over the past year, we sure haven't had much luck frying things. I guess it will just take practice, but maybe our lack of being able to fry is actually a blessing in disguise, at least for our hearts' health.
I just realized that I haven't mentioned the Olympics in any of our posts, but we've had a great time watching Team USA kick butt these past couple of weeks. We both really like watching swimming and volleyball. What's crazy is that Dustin is actually enjoying watching soccer, which is amazing if you know of his previous attitude to watching soccer! These pork chops would be great to grill and watch the Olympics, which I'm sad to see almost over. I know the Olympics are a nightmare to host and plan, even every four years, but I really wish they happened more often because they are great fun to watch, and a great motivator to work out to at the gym!