Birthday Cake Rice Krispy Treats
After buying an entire box of Rice Krispies cereal to use 1/2 cup for making granola bars, I had plenty of leftovers, so what's a girl to do? Make Rice Krispy Treats, of course. But not just any plain ol' Rice Krispy Treats— Birthday Rice Krispy Treats— even though it isn't anybody's birthday!
I"m pretty sure everyone and their mom has been pinning these treats (and everything else "cake batter" for that matter) on Pinterest for forever, but I just now got around to making them. I can definitely say that these are by far, the best Rice Krispy Treats that I've ever had (of course, I am a cake-batter-a-holic so I might not be the best judge).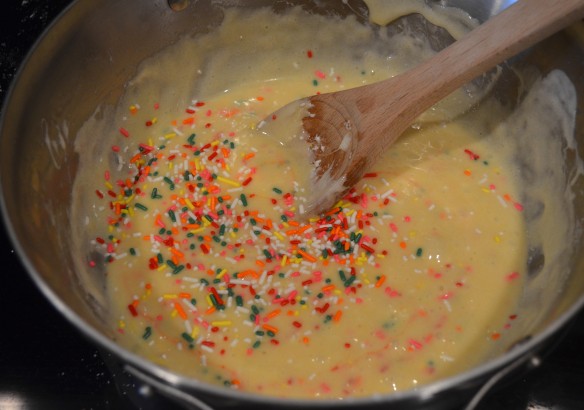 Seriously like the easiest no-bake dessert ever. All I did was modify the original Rice Krispy Treat recipe from Kellogg's themselves by adding in a cup of yellow birthday cake mix and a generous heaping of sprinkles.
Melt three tablespoons of butter in a large saucepan then add in a 10-ounce bag of marshmallow and stir with a wooden spoon. Once the marshmallows are melted, slowly add in the cup of cake mix and incorporate thoroughly. Once smooth, remove the pan from the heat and stir in six cups of Rice Krispy cereal, coating all of the cereal with the marshmallow mix evenly.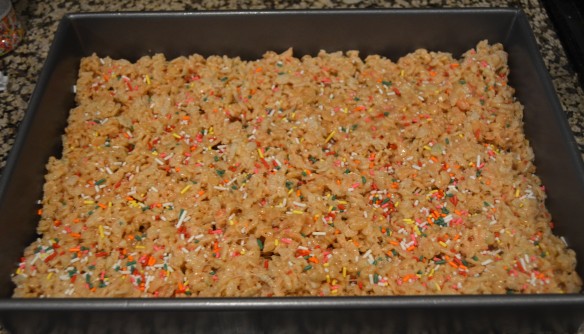 Once evenly coated, spoon into a 9"x13" baking dish, sprayed with butter spray and press down evenly before the mixture cools too much. Props if you can do this without slightly burning your fingers on the melted marshmallow mixture. Sprinkle another layer of sprinkles along the top to your liking (sadly enough, the sprinkles that I added to the bars seemed to disappear, so really load up the marshmallow mixture with waaay more sprinkles than you think you will need if you want to see the colorful specks throughout).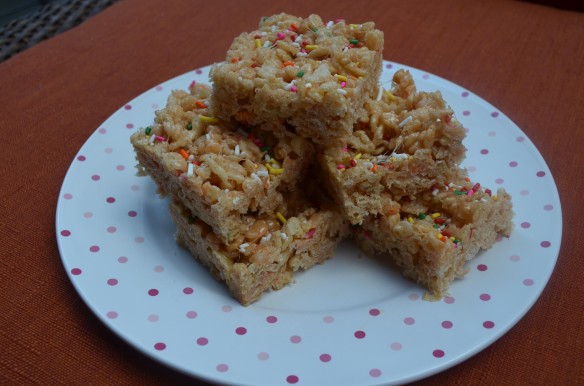 Let the bars cool for at least 20 minutes at room temperature according to the original recipe, but I let them cool for about an hour. Cut into 24 pieces and serve. They taste the best the same day you make them, so it's probably best to serve at a (possibly birthday) party!