Corn Ravioli
So we had another pasta fail. This time it wasn't gnocchi, but ravioli rather. I'm not even quite sure where to start with what we did wrong, but we did learn a lot about ravioli making from this experience. First, I don't think our dough recipe was right, so we'll have to definitely experiment with that next time. Second, the pictures you see of ravioli making online make it look really easy. First you roll out basic pasta dough, lay it over the mold and push the dough into the holes, fill the holes, place another sheet of rolled pasta dough on top then roll with a mini rolling pin to cut out the ravioli.. Sounds easy, peasy, right? WRONG!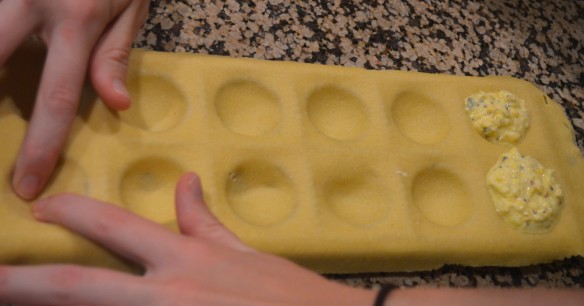 Here are the things we learned.
(1) Don't overfill the ravioli. A little bit of filling goes a long way or else you will have filling oozing everywhere.
(2) Make sure your filling isn't too liquidy. We combined kernels from two cobs of corn (pureed in the food processor) with 3/4 cup of low-fat ricotta, a splash of cream, and dried basil and oregano. Next time I'd leave out the cream, use whole milk ricotta cheese (and also add some more spices or a an extra cheese to the blend because our filling was a tad bland for our tastes). If the filling is liquidy when your ravioli is sitting there, the liquid will soak through the ravioli and turn them to mush and making them rip much more easily.
(3) Put a little water around the edges of the of the pasta dough before you roll the second piece of pasta dough on top. We had an issue with sticking. We had to use a fork to crimp the edges closed and it quite messy with the filling coming out.
(4) It takes awhile for the pasta to cut. We had to use the rolling pin a lot for the dough to perforate along the edges so that you can pull the excess dough off. And don't pull the excess dough off the sides until you've turned the ravioli mold upside down and gotten the ravioli out (unlike we did in the picture below). And make sure to dust flour on the mold so they slide out easier.

We made a white wine and cream sauce to pour over the top, but it didn't thicken up as nicely as I would have liked, so I'll have to work on a better recipe.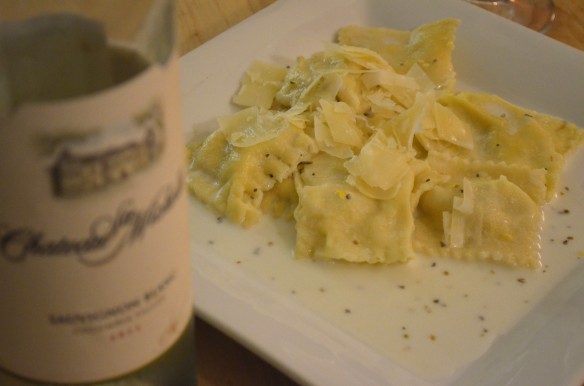 Served with some shaved parmesan, this was a really simple dish that could have benefited from a little extra boost of flavor, but the base was good. We'll definitely have to try making ravioli again soon to improve upon this experience. We did have a lot of fun though, and getting to eat our ravioli after all of that hard work was pretty rewarding!