Hatch Chile Cheeseburgers + Hatch Chile Queso
Best cheeseburgers ever. For the last few weeks of August, we are able to stock up on freshly roasted Hatch Chiles at our Whole Foods shipped in from New Mexico. We've pretty much been putting Hatch Chiles on everything we eat from our bagels and cream cheese at breakfast to sandwiches at lunch to these cheeseburgers for dinner.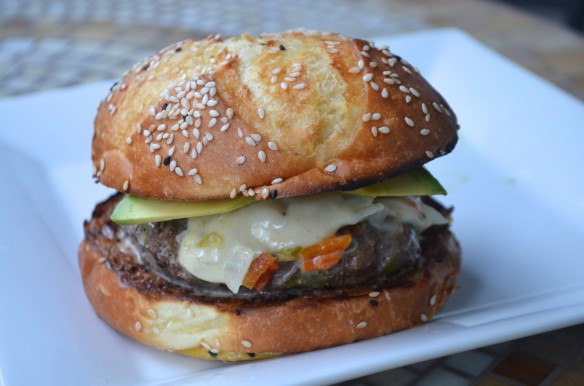 The cheeseburgers were perfectly grilled with chopped chiles on top as well as mixed inside of the patty in addition to a healthy glob of Hatch Chile queso. Yes, Hatch chile queso. We might have gone a little overboard with our Hatch Chiles up here. And sliced avocado.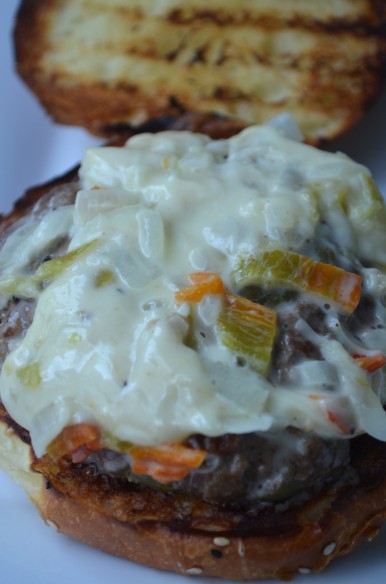 Apparently the key to making amazing, authentic, Tex-Mex style queso is white American cheese. That's what gives you the smooth, Velveeta-style texture without resorting to Velveeta itself. Good luck finding any kind of American cheese at Whole Foods. I also tried Safeway, but all I found were slices of yellow American. We did our best to make queso with mostly Monterrey Jack and a little bit of white cheddar, all infused with roasted Hatch chiles, and believe me it was delicious, but the texture was so totally off that we will just have to continue our search for white American cheese.