Hatch Chile Mac & Cheese
Hatch chile season may be over at Whole Foods, but we stocked up and are still putting them in all sort of food, including this yummy, slightly spicy macaroni and cheese baked in individual ramekins. I knew I wanted to make hatch chile and macaroni and cheese and completely just threw together this recipe, winging it all the way. I was pleasantly surprised at how delicious it was. Actually, I shouldn't be too surprised considering it's just pasta with cheese sauce and delicious roasted hatch chiles. But I'll still take credit for the deliciousness anyway.
First I cooked four ounces of elbow macaroni until al dente. While that was cooking, I made a roux by melting a tablespoon of butter over medium heat, then stirring in a tablespoon of flour and cooking for a few minutes. Next, I slowly poured in 1 cup of low-fat milk and 3 roasted and chopped hatch chiles. I let this cook for a few minutes before I added in 1 1/2 cups worth of cheese (a mixture of white cheddar with hatch chiles and Colby Jack) and continued stirring until the sauce had thickened.
I coated the cooked and drained elbows with the cheese sauce (of which I had quite a bit extra), poured the cheesy macaroni into two individual ramekins, coated them with Panko breadcrumbs and a dash of chili powder, and baked them in the oven at 350° for 20 minutes before finishing off the tops under the broiler on low for about 3 minutes.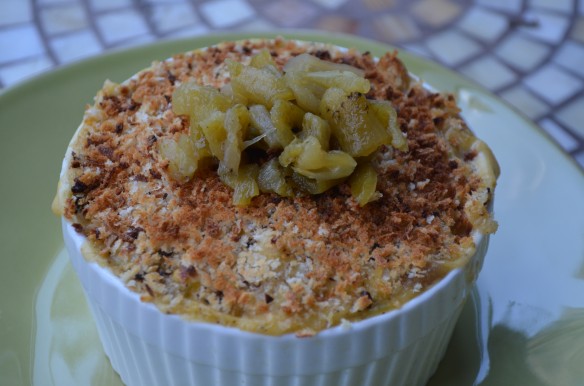 Top with some more fresh hatch chiles because they are really what make this dish.