Mexican Corn Chowder
I've been dreaming of corn chowder, oh for-about-ever now, but I never found a recipe I was completely happy with until I saw this one for corn chowder with a Mexican flair. I loved the idea of using chili powder and cotija cheese paired with the corn to give the chowder the flavor of grilled Mexican street corn liked you'd get at a fair.
The best part about eating this recipe this time of year is that it has some flavors of summer— I'm still not letting go quite yet— but still is warm and hearty as the temperatures are dropping here and fall is deciding to show.
I ended up halving the recipe and still had enough for three entree sized servings, and I served it without the croutons, but tortilla chips instead.
First you have to grill up your corn on the cob on the stove, rubbed in olive oil, before shucking the kernels from the cob; I used the kernels from 4 ears of corn. Once this process is complete, you make your own corn stock by boiling the cobs in 2 cups of water with a quartered onion, a pinch of salt, pepper, and sugar, then reducing to a simmer for about an hour.
Once the stock is made, sauté 1/2 cup of chopped shallots, 1 teaspoon of chili powder, and 2 chopped peppers (I used jalapeño) until tender. Then add in 1/4 cup of chopped scallions and cook for another minute. Add 1/8 cup of masa harina (procured in the flour aisle of Safeway after Whole Foods told me they didn't have any) to make a roux but using masa harina for the corn flavor instead of regular flour and cook briefly. Next add in 1 1/2 cups of milk (I used low-fat instead of whole), 1/2 cup of cream, and the homemade corn stock (with onion and cobs removed by slotted spoon). Bring the soup to a boil, stirring constantly.
Once the soup has thickened add in 1/2 cup of cotija cheese and a bit more salt, reducing the heat so that the mixture reduces to a simmer.
Next we poured half of the soup into our Vitamix to make the soup a little less chunky as recommended in the recipe, which truly gave it the perfect texture. Be careful of blending hot soup in a blender. Cover the top with a towel even if it looks there are no cracks through which hot liquid can escape. Trust me. An immersion blender would have been more effective here. I told Dustin we should put one on our registry...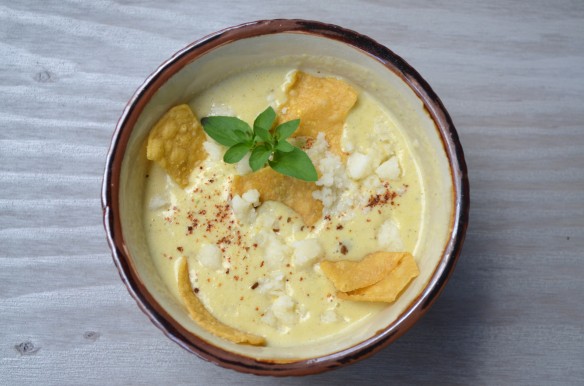 Garnish with a sprinkling of chili powder, a squeeze of lime, cotija crumbles, and tortilla chips. Cilantro would have been perfect on top, but sadly our cilantro plant is no longer with us.
All in all, a perfect corn chowder!