No Bake Granola Bars
One cool, foggy Sunday morning we went on a hike with some friends up to Rattlesnake Ridge. It was a relatively easy (i.e. well-paved) and short (2 miles, one way), but quite steep (the elevation changed rapidly over the first mile), hike in the Issaquah Alps, cutting though lots of forest. Supposedly, the views from the top are gorgeous, and you can see down into a lake from way high up on the mountain. Unfortunately, we wouldn't know, as all we could see was white fog. It was eery almost, standing on the rocks and just seeing fog out in all directions. It would have been a great place for meditation had it not been packed with people and their pooches. Nonetheless we had a great time hiking with our friends and got a little bit of exercise in the process. Plus Bonnie got to come along and did really well. She'd never done a hike where there was a drastic elevation change. Even better, at the top of the ridge we ate these no-bake granola bars.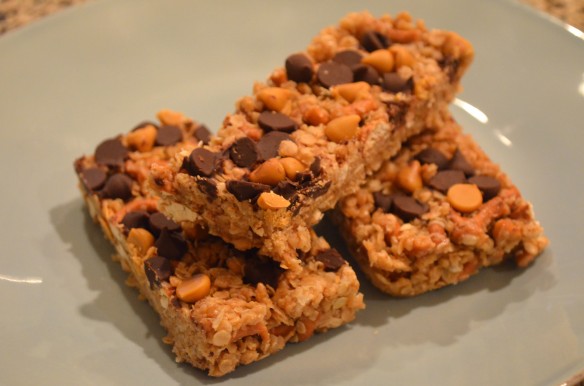 They are super easy to make. You just combine 1/4 cup butter, 1/4 cup brown sugar, 1/4 cup honey, and 1/4 cup peanut butter in a pan on the stove until they start to bubble. Then remove the pan from the heat, stir in 1 teaspoon of vanilla extract and add in 1/2 cup Rice Krispies, 2 quick cooking oats, and 1 cup chopped pretzels.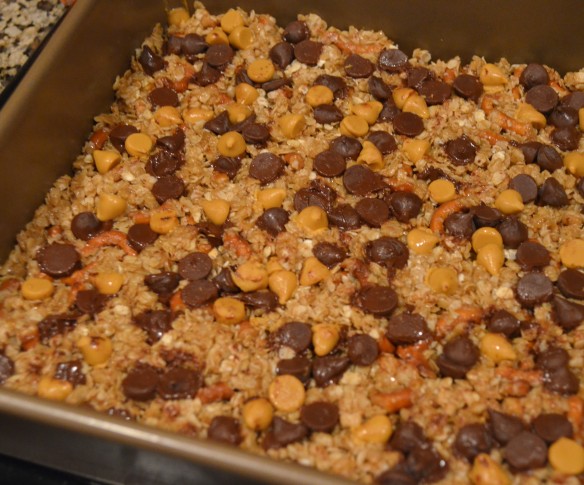 Everything is mashed into a parchment-lined baking dish (mine was 8"x8"), and then 1/4 cup chocolate chips and 1/4 cup butterscotch chips (my addition to the recipe) are pushed into the top. Let the bars sit in the fridge for about an hour before cutting, then store in the fridge.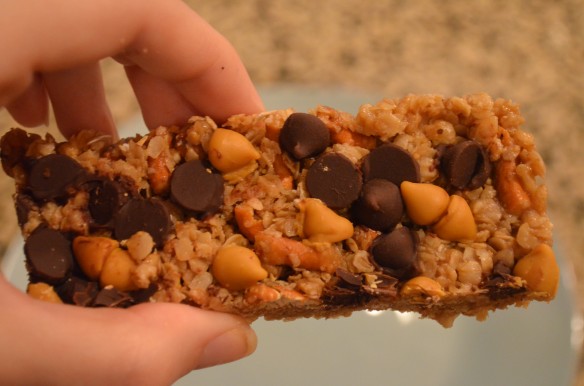 These were a great chewy treat to enjoy on the top of the mountain after giving our legs quite the workout!