No Bake Peanut Butter Pie (Lightened Up)
I first saw this skinny peanut butter pie on Skinny Taste awhile back, filed a mental note that I should try it sometime, and proceeded to forget about it as peanut butter pie was replaced with some other equally delicious recipe I wanted to try. It wasn't until I saw this amped-up version on Sally's Baking Addiction that I remembered that pie and had to make it immediately! It's amazing what adding an Oreo cookie crust, some chopped Reese's Pieces, and an extra generous drizzle of chocolate syrup can do. I was practically drooling on my keyboard looking at the pictures (especially because it is skinny).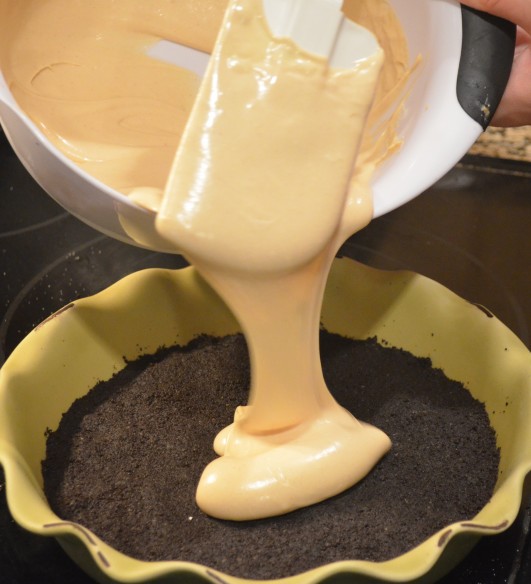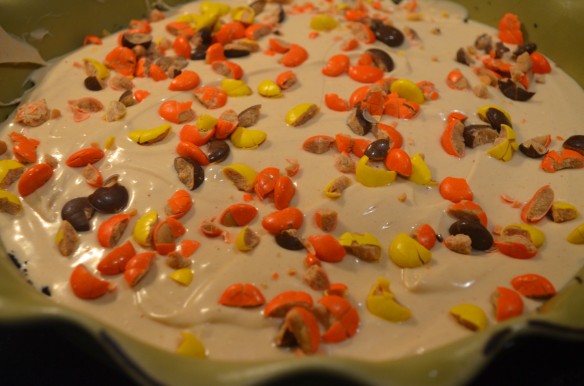 We recently had some good friends get married back East where they are from, and since we couldn't make it to the wedding, the last time we hung out before their big day we brought this dessert over to celebrate. You see, their first date revolved around a peanut butter cheesecake of sorts, and since this dessert is skinny it's wedding dress diet approved— sort of— as long as you don't eat a quarter in one sitting! I figured this would be the perfect celebratory dessert for them.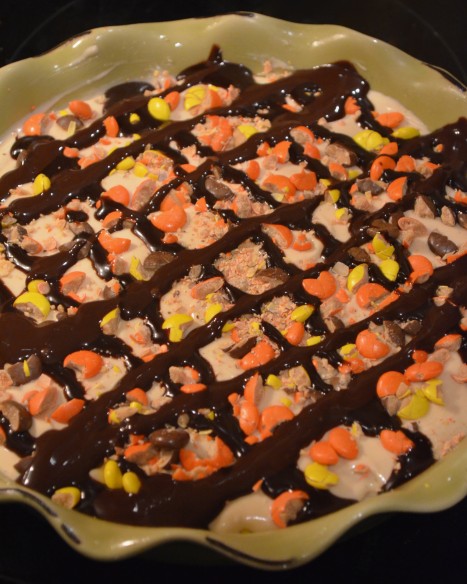 It looks so decadent with all of that chocolate and peanut butter, but the filling is so light and fluffy (and relatively low-fat), and the texture is spot-on like a creamy mousse. It's really hard to cut yourself a small slice and not go back for more.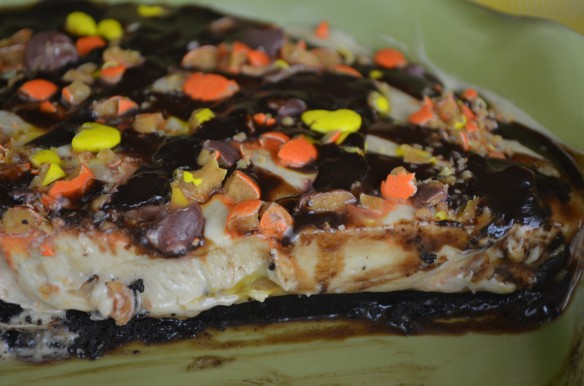 Lightened Up Peanut Butter Pie
Serves 8-12 depending on how big you cut the slices
Filling
1/2 cup reduced-fat peanut butter
1/2 cup powdered sugar
1/4 cup low-fat milk
4 ounces reduced-fat cream cheese softened
8 ounces fat-free whipped topping, thawed
1/4 cup sugar-free chocolate syrup
1 cup chopped Reese's Pieces, divided
Crust
24 reduced-fat Oreos
1/4 cup of butter, melted
Make the pie crust by pulsing the Oreos in a food processor until a crumble is formed. Combine with the butter and firmly press into an even layer in a 9" pie pan. Place in the freezer.
Make the filling by combining the peanut butter, powdered sugar, milk, and cream cheese with an electric mixer until smooth. Fold in the whipped topping with a wooden spoon until the mixture is homogenous.
Remove pie crust from freezer. Then spoon half of the filling onto the crust. Sprinkle with half of the crushed Reese's Pieces. Spread the rest of the filling over the candy, smoothing the top out. Sprinkle with the rest of the Reese's Pieces and drizzle the chocolate sauce all over in any pattern you wish!
Freeze the pie overnight (or for as long as you can wait, but you definitely want it to solidify together) then let thaw for about 30 minutes before serving. It will be much, much easier to cut. I would store leftovers in the freezer and thaw before eating again because I don't think the texture was as nice after it sat in the fridge (the consistency was more like that of melted ice cream), but that's just my personal opinion.
Adapted from Sally's Baking Addiction and Skinny Taste