Oatmeal (Stout) Raisin Cookies
You know the saying "98% of statistics are made up on the spot"? Well this is one of those statistics. When it comes to cookies, I'm pretty sure 9 out of 10 people will take an oatmeal cookie then proceed to tell you they prefer chocolate chip. I'm one of those people too. But I do like oatmeal raisin cookies, especially as a change of pace. The only time I really don't like oatmeal raisin cookies is when I think I'm getting a chocolate chip cookie and the chocolate chips end up being raisins. That's a sad day. Either way, just about everybody who tasted these cookies said they were the best oatmeal cookies they'd ever had. The fact that they had beer in them might have helped a little :)! The edges of these cookies were slightly crisp and the centers chewy (courtesy of rolled oats rather than quick-cooking oats), which from what I can tell is the hallmark of an excellent oatmeal raisin cookie according to my extensive oatmeal cookie research on the Internet! The beer flavor is more pronounced in the raisins themselves than the actual cookie where there is just a slight hint of the oatmeal stout, but that is exactly what the non-beer lover in me wanted.
As soon as I saw this recipe for oatmeal cookies with raisins soaked in oatmeal stout, I was ready to try them, as I haven't actually tried making oatmeal cookies in the year plus now that I've been blogging about what is coming out of my oven. I began by soaking a cup of raisins in a cup of oatmeal stout and sticking them in the fridge instead of bringing them to boil as the original recipe called for, and I was really happy with the way the raisins plumped up. I used part of a GIANT bottle from Oatis Oatmeal Stout from Eugene, Oregon. Don't worry, the rest of the bottle was used for another recipe (coming soon)!
I let the raisins soak for about 2 hours before I made the beer syrup with the drained beer in which the raisins had been soaked. I brought that 12 ounces of stout to a boil along with 1/4 cup of brown sugar until the mixture had reduced to syrupy state.
While the stout syrup was cooling, I creamed together 1/2 cup of butter, 1/4 cup of shortening (I just used regular instead of buttered flavor because that is what I had on hand), 1/2 cup of brown sugar, and 1/2 cup of granulated sugar until fluffy. Then I added in 1 egg, 1/2 teaspoon of vanilla extract, and the stout syrup.
In a separate bowl I combined 1 1/2 cups of flour, 1/2 teaspoon of baking soda, and 1/2 teaspoon of salt and then added the dry mixture to the wet. Next I folded in 3 cups of rolled oats and the soaked raisins until barely combined. I covered the dough with plastic wrap and refrigerated it for about 4 hours, even though the recipe said at least 8 hours since I needed to get the cookies out of the oven pretty soon for a picnic.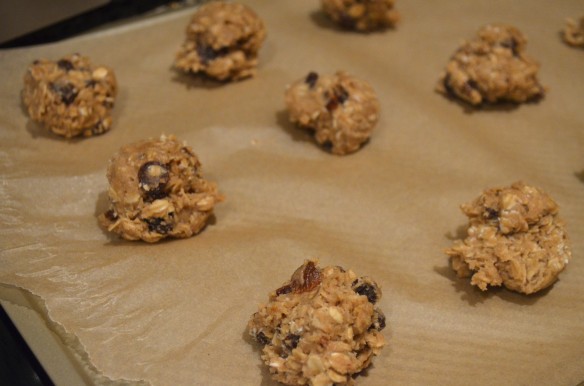 I used a cookie scoop to scoop out the dough and placed them on a parchment-lined baking sheet. I baked them for 12 minutes until the edges were golden but the centers still looked slightly soft. I ended up with 3 dozen moderately sized cookies as you can see below.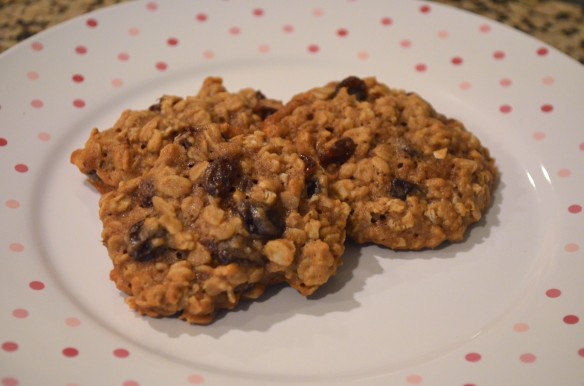 Here is Bonnie looking regal. I really like the angle of this shot and the fact that her ear is sticking straight up!