Shrimp and Black Bean Enchiladas with Hatch Chile Sauce
I've had shrimp enchiladas on my to-make list for a long while now, but it's been one of those dishes that kept getting pushed to the back burner. I had this great idea of making a healthy enchilada with shrimp and black beans, very little cheese, and a spicy homemade tomatillo and hatch chile sauce. Unfortunately, the grocery store decided not to have fresh tomatillos, so I had to make a few changes to my plan. Fortunately, everything worked out well in the end with some help from Rick Bayless' prepackaged tomatillo and roasted garlic enchilada sauce. Instead of making my own sauce, I heated his version on the stove and added some fresh hatch chiles that I pulverized with the food processor, and I ended up with pretty much what I planned on making from scratch.
I sauteed some chopped red onion in a bit of olive oil until translucent and then added crushed garlic until fragrant before adding 1/2 pound of peeled and deveined shrimp to the pan, cooking them until just pink. I added in 3/4 of a can of drained and rinsed black beans to be the filling of my enchilada.
Next I took flour tortillas, dipped them in the enchilada sauce, placed them in a baking dish, and covered them with the shrimp and black bean filling and just the slightest topping of Colby Jack cheese. I rolled each enchilada up (I had enough filling for five tortillas), and generously coated the enchiladas with the tomatillo and hatch chile sauce.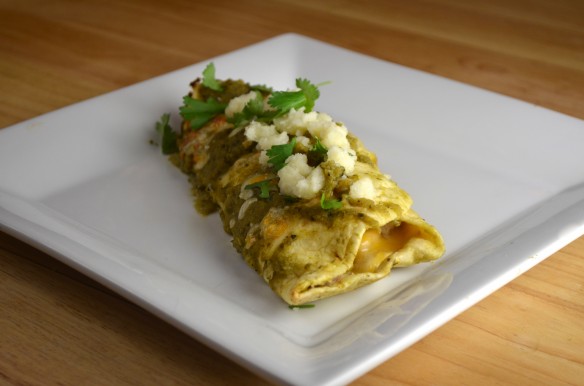 I baked these in the oven for 20 minutes at 375° just to make sure everything was heated all of the way through since everything was already cooked. I turned the broiler on low for the last few minutes to give the top a nice brown color before serving with a few crumbles of cotija cheese and fresh cilantro from our herb garden. These enchiladas were not your typical Tex-Mex enchiladas, but they were incredibly flavorful and quite healthy. After a recent spell of bad eating, I'm glad to be able to think up a few healthy dinners that still taste great and have lots of flavor but leave us some room for all the desserts that are being churned out of this kitchen!