Almond & Coconut Granola + Yogurt Parfaits
Today I am heading to Texas! I am really excited for this trip. The last time I was in Texas I got married, so of course, that trip was awesome, but things were a little crazy. This time around, I get to see my extended family, old friends from high school, and I get to see college friends as well celebrate Rice's Centennial. I also get to celebrate the engagement of one of my best friends while I am in Houston (congrats Patty), and I am going to eat my weight in Mexican food! It's going to be fun.
Obviously I won't be cooking while I'm on my trip, but I do have a bunch of saved up recipes that I am going to try to post while I'm gone. Dustin has some things he wants to work on, so maybe you'll see more from him over the next week.
On to the granola. I love granola, but it's one of those foods that seems healthy, but in reality is sugar-laden and has lots of calories for a small portion. However, when you make granola at home, you can control the amount of sugar you put in. I did a lot of research on how to make granola, and ended up throwing something together based on what I had in the kitchen cabinets— slivered almonds and coconut.
First, I mixed together 2 1/2 cups of old-fashioned oats with 1/2 cup of honey, two tablespoons of melted coconut oil (or substitute butter if you don't have or want to buy coconut oil), 1/2 teaspoon of cinnamon, 1 teaspoon of vanilla, and 1/4 teaspoon of salt in a medium sized bowl. Then placed the oat clusters on a baking sheet and baked them for just over 25 minutes (until lightly golden). Watch the oat clusters carefully the last 10 minutes, so the clusters don't burn in the oven. I baked mine for closer to 30 minutes, and they were on the verge of being a little too brown for my liking.
I toasted up 1/2 cup of sliced almonds and 1/2 cup shredded + 1/2 cup sweetened coconut in a pan on the stove. This would also be the point to toast any other nuts or seeds you want to include. I think pumpkin seeds would be an amazing addition to this granola for fall, but I didn't have those stocked in my pantry.
Combine the almonds, coconut, and the oat clusters along with some kind of dried fruit if you'd like— raisins, cranberries, or cherries would be nice for fall/winter (and if you are making it in the spring/summer I'd add banana chips, papaya, or pineapple.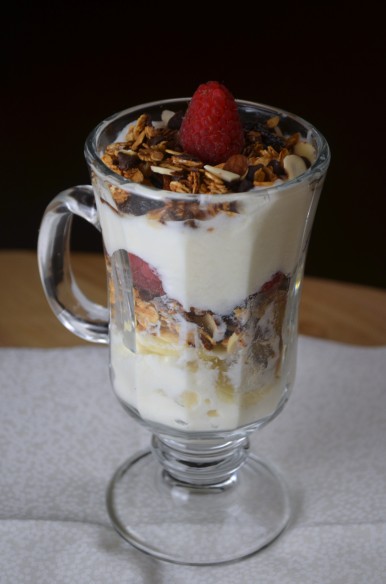 Make a parfait with the finished product by layering the granola on top of fat-free vanilla yogurt with fruit (sliced bananas and raspberries) and repeat the layering so that you have a lovely little parfait. Top with a sprinkling of mini chocolate chips to make this a little more decadent and then add an extra raspberry!