Banana Ghost 'Candy Bars'
I really, really wanted to make white chocolate covered banana ghost pops last Halloween as a quick DIY craft project, but I just plain ran out time. This year I wanted to make sure that didn't happen; however, I made a few changes for my ghosts.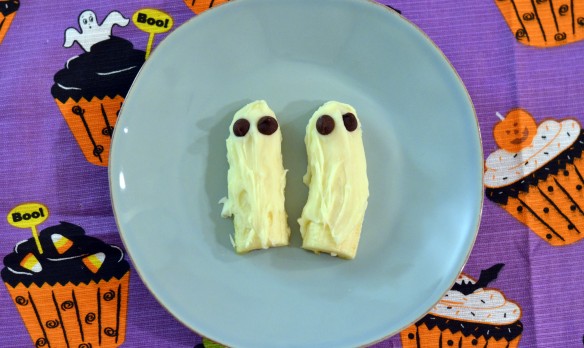 My ghosts were not on popsicle sticks, hence they were not ghost pops, but rather mine were more like candy bars. I also used white, vanilla flavored candy melts instead of white chocolate to cover the bananas. Very tasty!
Cut a banana in half and then slice each one down the middle (basically quartering the banana). Use a knife to make sure each of the sections have a rounded end. Dip each ghost into the microwaved candy melts, rounded end first. You really don't need very much of the candy melt to coat each section of banana. I used a knife to spread globs of the candy around to cut back on the amount I needed.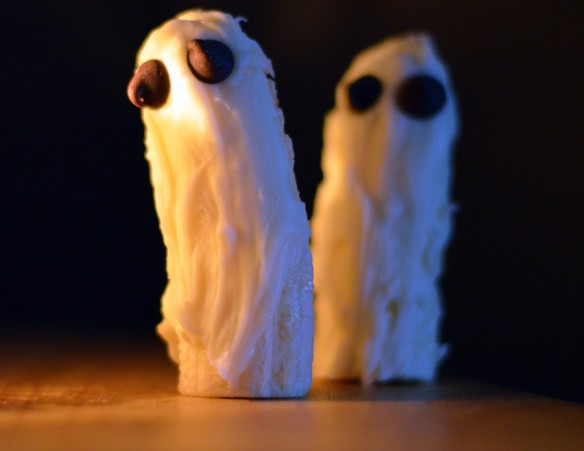 Use two chocolate chips to make eyes for the ghosts. I also tried making an open mouth for my ghosts (as if they were saying 'Boo!') with the chocolate chips, but they were too large and made the ghost look funny. Instead, I would recommend using mini chocolate chips to form a proportionately sized mouth.
Freeze the bananas until they are hardened. You can eat them directly from the freezer, but I'd recommend letting them sit out for at least a few minutes if you are like me and have teeth that are sensitive to the cold.
The frozen banana gets an awesome creamy texture, and with the sweet hardened outer shell, you really do feel like you are eating a candy bar. But it's healthier. Too bad these aren't particularly easy to hand out at your door on Halloween!
Dustin started playing around with the ghosts, candlelight, and our new lens...