Buffalo Chicken Dip
I'd never heard of buffalo chicken dip until recently, but lately it's been all the rage, including being featured on a recent episode of ABC's Shark Tank. The original recipe comes from Frank's Red Hot, and it really does include all of the important elements of a chicken wing, but we made some modifications based on our flavor preferences. This dip does sound a little weird when you think about it, but the chicken in here is NOT pureed like baby food or anything. It's just like a casserole with shredded chicken. Each bite is hot and cool at the same time, and you will seriously start shoveling it down at an alarming rate. That's why we used reduced fat ingredients!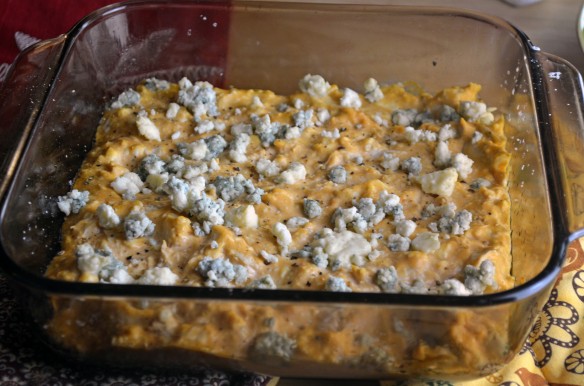 Buffalo Chicken Dip
Adapted from Frank's Red Hot; serves 6-8
8 ounces of reduced-fat cream cheese, softened
1/2 cup hot sauce
1/2 cup low-fat ranch dressing
1/2 cup sharp cheddar cheese, shredded
1 cup crumbled blue cheese, divided
2 cups poached chicken, shredded
Preheat the oven to 350°.
Combine the cream cheese, hot sauce, ranch dressing, cheddar cheese, and half of the blue cheese together in a pot over medium heat and stir until all of the cheese is melted.
Add chicken and pour into 8"x8" baking dish. Sprinkle the remaining blue cheese on top.
Bake in the oven for 20 minutes until heated all the way through.
*You can make this dip ahead of time and put it into the fridge covered with aluminum foil. Just perform steps 2 and 3, but instead of baking it right away, bake it right before you want to serve it.*
Use tortilla chips as the vehicle for this dip, or celery and carrots if that's what you're into. Perfect for watching a game of football!