Caramelized Balsamic Onion, Goat Cheese & (Turkey) Bacon Pizza
I am absolutely infatuated with the flavor combination of goat cheese, bacon, and caramelized balsamic onions. Somewhere from the depths of imagination, I came up with pizza. I'm not sure where it came from or why, but all of the sudden I just had to have this pizza on my plate. Now!
I began working on this pizza early in the day by caramelizing the onions for several hours. It's a really easy process, but it does take a little bit of time.
Caramelized Onions
1 tablespoon olive oil
1 large white onion, chopped
1/4 cup granulated sugar
1/3 cup balsamic vinegar
pinch of salt and pepper
Cook the onions in olive oil over medium-high heat in a medium-sized pot until the onions are soft (15 minutes).
Reduce the heat under the onions to medium-low and stir in the sugar, stirring constantly (15 minutes).
Turn the heat to low and add the balsamic vinegar. Let the onions sit until there is practically no liquid left in the pot (1 1/2 hours).
Drain any excess liquid and season with salt and pepper.
When it was time to assemble the pizza, I rubbed our dough with some olive oil, cooked and chopped up some turkey bacon, added shredded mozzarella, goat cheese crumbles, the onions, and the turkey bacon. We cooked the pizza for 12 minutes at 425°, but the cooking time will depend on your pizza dough, as that is the only thing not fully cooked on this pizza.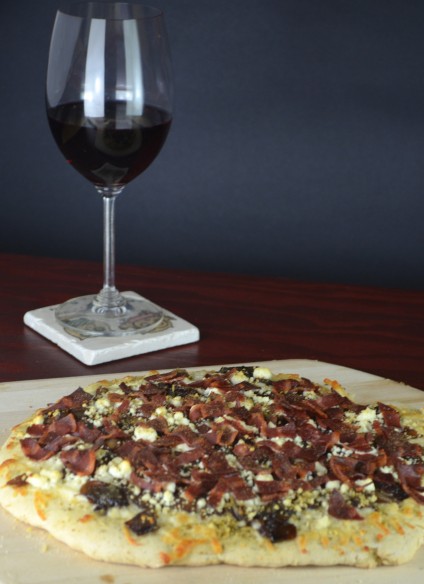 This pizza is without a doubt one of my favorites that we've ever made! I think I'll have to use this combination of flavors again soon. Maybe on some kind of pasta...