Corona-Braised Carnitas + Homemade Corn Tortillas
We made our homemade corn tortillas!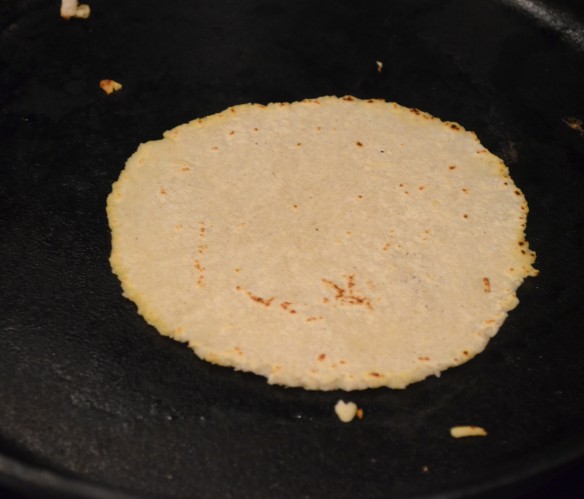 They are super easy to make and turned out really tasty! The only issue we had was making sure the dough didn't fall apart when it was pressed. But basically all you have to do is mix 2 cups of masa harina with between 1 1/2 to 2 cups water until a slightly dry, but not crumbly dough is formed. Wrap the dough and let it rest for about 30 minutes. Then heat a cast iron skillet to medium high heat (don't use any oil or anything). Break off small balls of dough (~16) and place inside the tortilla press (or use a rolling pin if you don't have this specialty item) and press. All of the instructions on making corn tortillas said to use plastic wrap to line the inside of the press to prevent sticking, but we didn't have any luck with that and Dustin decided to instead to spray a little bit of cooking spray which seemed to do the trick. Cook the flattened dough for approximately 45 seconds on each side or until brown spots start forming. Keep wrapped or in a toaster oven so the tortillas stay warm until serving time.
On to the carnitas... I don't think I ever actually tried carnitas back in Texas. I know you can get them at Chipotle, but I never do. I guess my first experience with carnitas was at this Mexican street food joint here in Bellevue. They were good, but portions were small and overpriced, and I knew I could improve the flavor. So I did. I modified a recipe from my Homesick Texan cookbook to make in the crock pot, and I replaced water with Corona to give the carnitas even more flavor!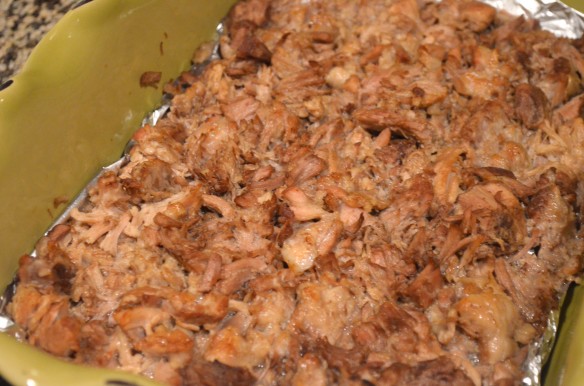 To make the carnitas, I combined about 2 1/2 pounds of pork shoulder with the juice of 1 orange, 2 limes, and 1 bottle of Corona along with 4 cloves of garlic, 1 teaspoon of salt and 1 teaspoon of cumin. The liquid was just enough to barely, but completely cover the pork shoulder. I cooked the pork on high for 2 hours and then turned it down to low for another 4 hours. I would have cooked on low all day had I started a little earlier in the morning, but we had plans with our guests to eat early.
Drain the pork from the remaining liquid and move into a foil-lined baking dish. When the pork is fully cooked it will be incredibly tender and easy to shred by simply pulling apart with two forks.
Now here is they key to getting the carnitas that crispy, caramelized outer texture...place the baking dish under the broiler on low for about 3 minutes or until the edges of the pork have the texture you want.
Allow to cool a little before serving with your corn tortillas and some combination of queso fresco, avocado, cilantro, salsa, and sour cream! I wish I had a picture of the final product to show you, but I promise you, these carnitas are sure to impress!