Creme Brûlée French Toast Casserole
At first it was a little weird, but now we really enjoy football and brunch on Sunday mornings. With the Texans as the national game of the week on Sunday morning, we finally got a chance to make our own football brunch— so much better than the bar food we usually eat. This seemed like the perfect morning to make creme brûlée french toast casserole. It's great for a lazy Sunday morning of football watching. The best part is that it takes no effort the morning you eat it.
Instead, you make it the night before and let it sit in the refrigerator overnight and then bake it the next morning.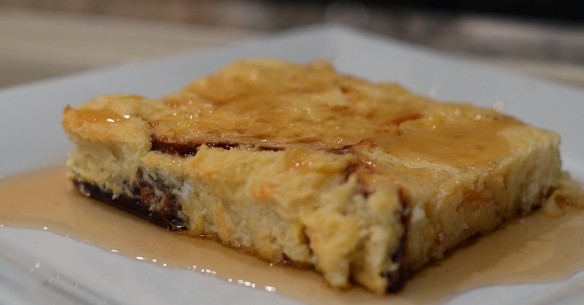 The night before, I melted 3 tablespoons of butter with 1/3 cup of brown sugar and 2 tablespoons of light corn syrup on the stove before I poured it into a 7"x11" glass baking dish. This mixture creates the caramel layer reminiscent of what you'd find on a traditional creme brûlée. Then I added in four thick slices of brioche bread (from Macrina Bakery) to the baking dish, tearing and stuffing the bread where it was needed to make a solid layer of bread in the dish. In a separate bowl, I mixed together 1/2 cup of half and half, 1 1/4 cup of milk, 3 lightly beaten eggs, 1 teaspoon of vanilla, 1 tablespoon of rum, and 1 tablespoon of orange liqueur, and a pinch of salt before pouring it over the bread. Cover with aluminum foil and store in the fridge overnight. The next morning, preheat the oven to 350° and let the casserole come to room temperature. Bake for 35-40 minutes until the bread puffs up and is slightly golden.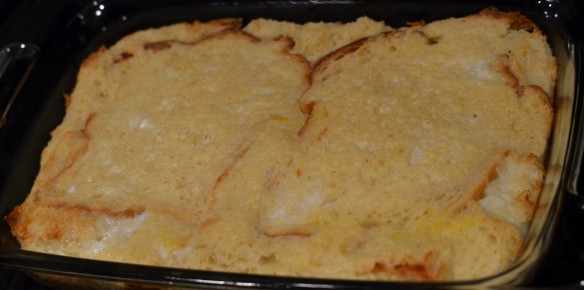 Cut into rectangles (serves approximately 3) and serve with just a little bit of warm maple syrup and a cup of coffee. This would be a great breakfast to make for a holiday morning when you have a million other things to do.