Pumpkin Cider Bread
Lately I have seen numerous recipes for pumpkin ale bread, but given that we just bought some pumpkin cider, I thought making pumpkin cider bread would be a fun, and slightly sweeter twist on the pumpkin ale bread. I was really impressed at how my experimentation came out. This bread was super moist, flavorful, and low-fat.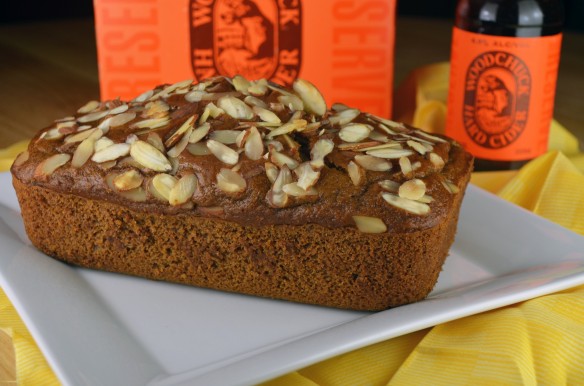 I frequently get cravings for pumpkin bread this time of year, and I have strong memories of a delicious pumpkin bread I tasted at a friend's house when I was a kid. I'm not sure if my memories about it have been blown out of proportion with time and nostalgia, but most of the time I am disappointed when I taste pumpkin breads. However, this bread was much closer to my pumpkin bread memories than anything I've tasted recently, and it definitely satisfied my most recent craving for pumpkin bread ... for the time being at least!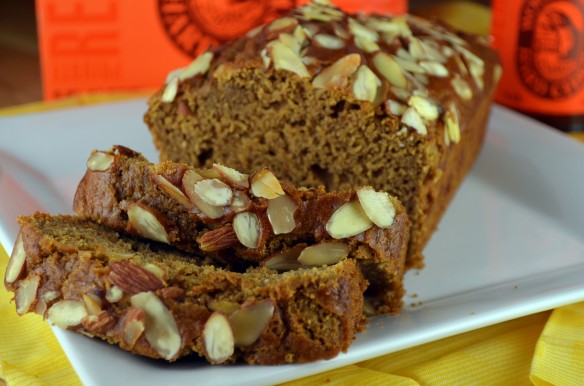 Pumpkin Cider Bread
adapted from Breadtopia— yields one 9" loaf
1 1/4 cup whole-wheat pastry flour
1/2  cup all-purpose flour
1 teaspoon baking powder
1/2 teaspoon baking soda
1/2 teaspoon salt
1 tablesoon pumpkin pie spice
1 teaspoon cinnamon (recipe to make your own)
3 tablespoons butter, melted
1 teaspoon vanilla
2/3 cup pumpkin pie filling (I would have used pumpkin puree, but the grocery store was out)
1/2 cup brown sugar
2 eggs
1 cup pumpkin cider
1/4 cup slivered almonds
Cooking spray
Preheat oven to 350° and grease 9" bread loaf with cooking spray.
In a large bowl, sift together flours, baking powder, baking soda, salt, and spices. Set aside.
In a medium bowl, combine pumpkin, brown sugar, and butter. Then mix until just combined. Add in eggs, one at a time, and vanilla. Stir in pumpkin cider.
Make a well in the dry mixture and slowly add wet mixture to dry mixture, stirring constantly until combined, but do not overmix.
Pour into greased loaf pan and top with slivered almonds.
Bake for 60 minutes or until inserted toothpick comes out clean. Make sure to let cool thoroughly before slicing!
*Can be kept up to 3 days at room temperature, well wrapped in aluminum foil.