Snickerdoodle Cupcakes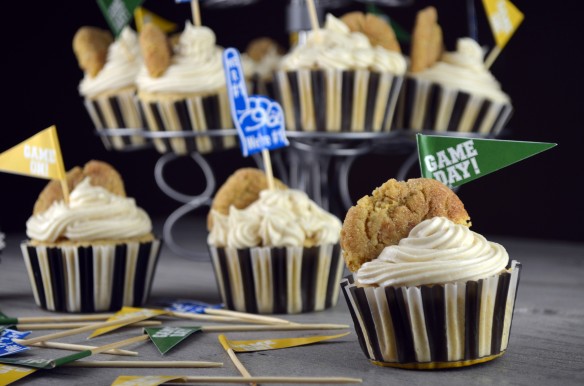 I swear to you these cupcakes are not in support of the Green Bay Packers, despite the green and gold flags. I actually made these cupcakes for the Texans vs. Jets Monday Night Football game last week, and when I bought the decorations at Michael's those were the only colors available. So let me repeat, these cupcakes are  fully intended to support the Texans DESTROY the Packers this evening and move to 6-0!
The cupcake itself was a little more dense than I would have liked, which might be best remedied by using a cake flour instead of all-purpose, but it was still delicious. The frosting was completely addictive, and I was on quite the sugar high for the game last week after eating copious amounts straight from the bowl on top of the actual cupcake!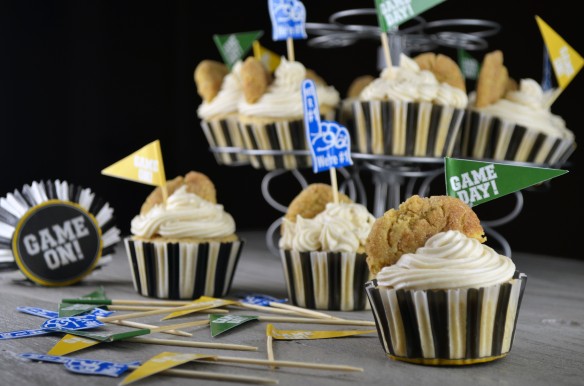 You also may have noticed that I actually managed to use my cake decorating tips to create pretty cupcakes because my frosting was the proper texture. I was quite proud of myself, as my last few decorating attempts have ended with me smoothing the icing on top with a knife.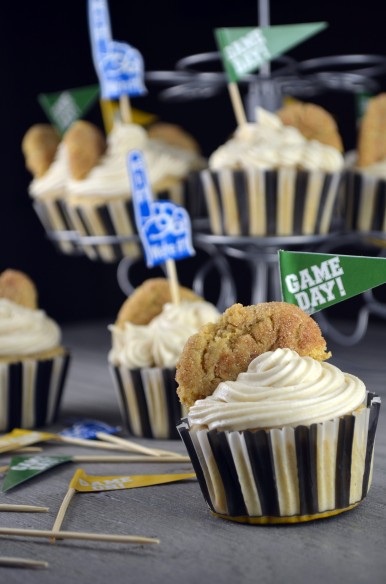 Snickerdoodle Cupcakes
Adapted from Martha Stewart— yields 12 cupcakes
1 1/2 cups all-purpose flour
1 1/2 teaspoons baking powder
1/4 teaspoon salt
2 teaspoons cinnamon
1/2 cup butter, softened
3/4 cup sugar
2 eggs, room temperature
1 tablespoon vanilla
1/2 cup milk
Preheat oven to 350°. Line cupcake tin with paper liners.
In a medium bowl, sift together flour, baking powder, salt, and cinnamon. Set aside.
In a large bowl, cream together butter and sugar.
Add in eggs, one a time, followed by the vanilla, and mix until just combined.
Add in half of the dry mixture and mix on medium speed.
Add in the milk and mix, followed by the rest of the dry mix. The batter will be quite thick.
Using a cookie scoop, evenly divide the batter between the twelve liners.
Bake for 18-20 minutes or until an inserted toothpick comes out clean.
Allow to completely cool before frosting.
Cinnamon Cream Cheese Frosting
6 ounces cream cheese, softened (I used half regular and half reduced fat)
2/3 cup butter, softened
2 teaspoons vanilla extract
1 3/4 cups powdered sugar
1/2 teaspoon cinnamon
Cream together butter and cream cheese with an electric mixer until fluffy (about 2 minutes).
Add in half of the powdered sugar and mix on medium speed.
Add in the vanilla extract and mix, making sure to continually scrape down the sides of the bowl.
Add in the cinnamon and continue to mix.
Add the remaining powdered sugar 1 tablespoon at a time, mixing until the desired texture (and sweetness!) is reached.
* These cupcakes need to refrigerated because of the cream cheese in the frosting. *
I garnished each cupcake with half of a mini snickerdoodle cookie because they looked kind of like mini footballs and made the cupcakes a little more festive for football season! GO TEXANS!