Tarragon Chicken Salad with Cranberries & Cashews
Chicken salad from Whole Foods is one of our picnic staples when we go hiking or visit a national park. We love all of the different versions, but they aren't cheap for a quick sandwich lunch. That's why I decided to make my own using leftover rotisserie chicken.
I combinde about 2 cups of shredded rotisserie chicken with 1/2 cup of light mayonnaise, 1 teaspoon of garlic powder, 1/4 cup of roasted cashews, 1/4 cup of dried cranberries, 2 tablespoons of tarragon, the juice of 1/2 a lemon, and salt and pepper.
The flavor was definitely of a similar quality to Whole Foods and perfect for a random mini-picnic at our local park with Bonnie!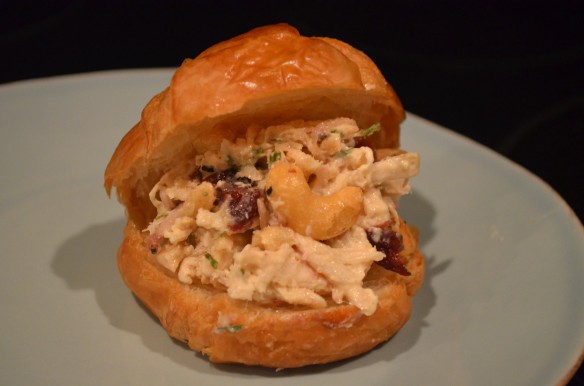 Once everything was mixed together, we let it sit in the fridge overnight so the flavors could meld and develop. The next day, we ate the chicken salad on mini buttery croissants we bought at the grocery store, but I absolutely can't wait to try to make my own flaky croissants in the very near future!