Top Pot Apple Fritter Ice Cream
Seattle's favorite doughnut shop recently came out with a line of doughnut ice creams, and as you can imagine, I was psyched to get into the cafe and try a scoop or two, particularly the apple fritter variety. The apple fritter is arguably Top Pot's best doughnut. So we went in and tried a scoop of the apple fritter along with a scoop of the maple bar ice cream, and I have to sadly say, I was a little bit disappointed. The article about the ice cream promises chunks of pastry in the ice cream, but there definitely weren't any in ours. The apple fritter had small chunks of apple and it tasted like a light apple pie filling mixed with ice cream, and the maple bar had a good, smooth maple-y flavor, but both would have benefited from chunks of doughnuts mixed in. The guy scooping told us the Double Trouble flavor (a.k.a. chocolate on chocolate) had doughnut chunks in it, so maybe that's the way to go if you need an ice cream and are walking by one of the Top Pot cafes.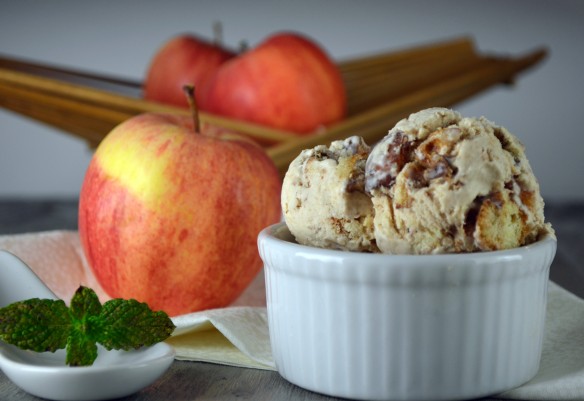 I was dreaming about chunks of apple fritter mixed into ice cream, so I just had to take matters into my own hands and make my own homemade Top Pot Apple Fritter Ice Cream just like I made my own cupcake ice cream.
I thought a cinnamon ice cream would make the perfect base to showcase the flavor of the apple fritter. I used an adaptation of the cinnamon ice cream from Seattle's own Molly Moon's Cookbook. It's a really simple recipe— just combine 2 cups of heavy cream, 1 cup of milk, 1/2 cup of sugar, and 2 1/2 teaspoons of cinnamon with a pinch of salt and cook it on the stovetop until almost boiling— remove from the stove, add in 1 teaspoon of vanilla, transfer into a bowl and let sit in the fridge covered overnight before churning. Add in one (enormous) apple fritter, chopped, during the last five minutes of churning and then let freeze overnight.
I think this ice cream is great for the summer-to-fall transition when you want the flavors of fall like cinnamon and apple, but the temperatures are still calling for a cold bowl of ice cream. Not that we are experiencing that here in Seattle, but perhaps in other parts of the country, you are still experiencing a surge of warmth. But this ice cream would also taste great on a cool day alongside a slice of warm apple pie.
I think I will have to make more of my own Top Pot ice cream in the future— I'm thinking homemade chocolate Double Trouble might be my next version!
FYI: this ice cream is to die for covered in extra salty caramel sauce from Hot Cakes!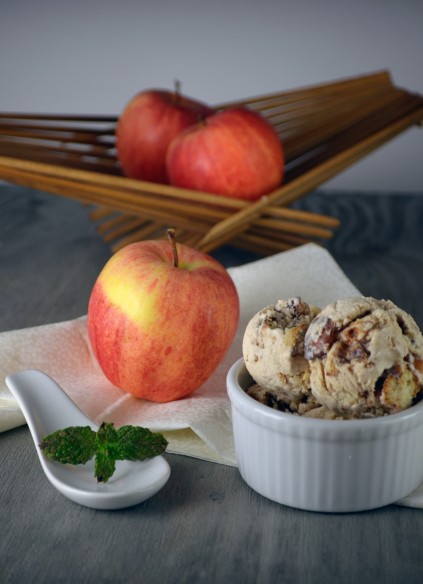 Apple Fritter Ice Cream
Adapted from Molly Moon's cinnamon ice cream
2 cups heavy cream
1 cup milk
1/2 cup sugar
2 1/1 tsp cinnamon
Pinch of salt
1 tsp vanilla
1 apple fritter, chopped
Combine heavy cream, milk, sugar, and cinnamon with a pinch of salt and cook mixture on the stovetop until it just comes to a boil.
Remove from the stove and add in vanilla.
Transfer into a bowl and let sit in the fridge covered overnight.
Churn ice cream in ice cream maker according to manufacturer's instructions.
Add in apple fritter during the last five minutes of churning.
Transfer to freezer-safe container and let freeze overnight.