Banana Chocolate Chip Cake + Peanut Butter Frosting
I probably need to cut back on the desserts (at least until Thanksgiving) because we have sort of been in dessert overload. Dustin's coworkers also blame me for making them gain weight. However, just when I thought I had my graduate school applications under control, I was thrown for a loop, and now I am reevaluating everything. Seeing as I am a stress baker/eater, stopping my assault of desserts on family and friends seems unlikely.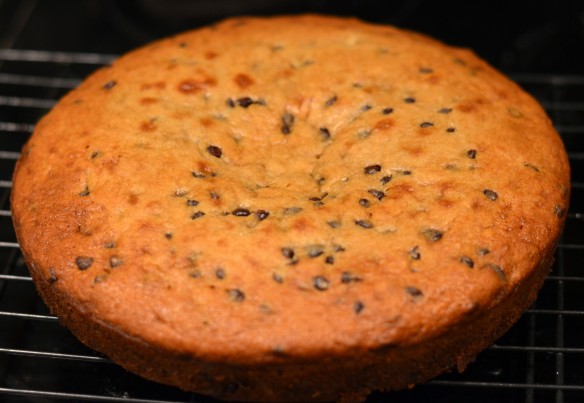 This cake is so unbelievable rich and tasty. You probably only need to eat a small slice, but more than likely you will cut yourself a large slice and end up eating the whole thing. Before Dustin took this cake to work on day 2, I asked him to cut me a small slice. When I opened the fridge later that day, I decided I would have to have a talk with him about what a small slice of cake is :) I decided to forgo a regular lunch that day and eat cake with a side of yogurt. Don't judge me— I'm a stress dessert eater.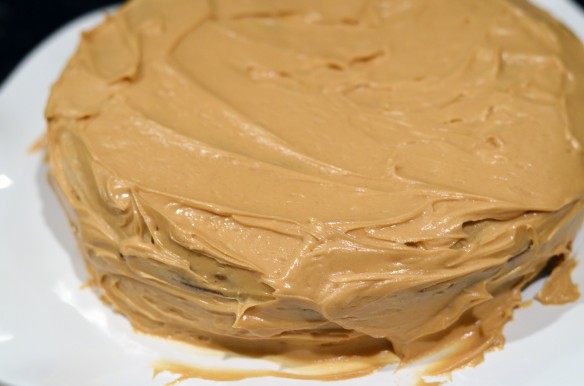 I ended up making this cake for election day last week. I had spent entirely too much time debating what kind of cake I wanted to make for Dustin's birthday. When I expressed my dilemma to Dustin before his big day, he informed me I could just make him a cake for the heck of it. So I did. This is the other cake I had been considering, seen in the October 2012 issue of Bon Apetit Magazine. The cake part is rich with banana flavor and lots of chocolate pockets. It sort of reminded me of the special muffins D's mom make for him, yet slightly different. If you like peanut butter, this frosting is pure decadence. Oh my God, it is so over the top and delicious!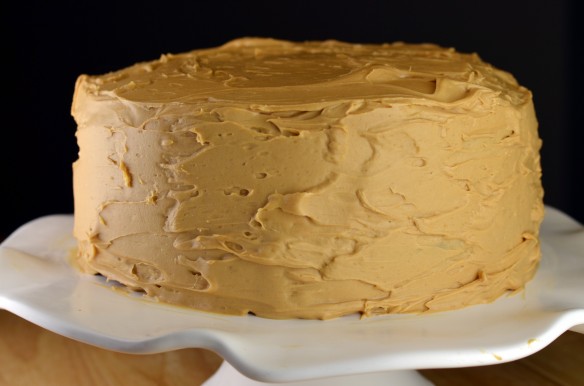 I actually decided to lighten up this recipe a little bit from the original, but make no mistake, this cake (particularly the frosting) is a calorie bomb. But worth every bite— as long as you have somewhere to ship the leftovers!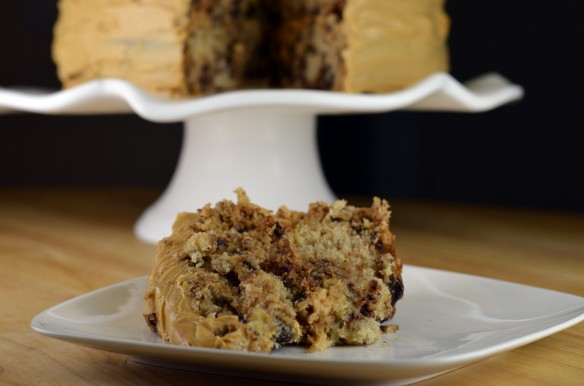 Banana Chocolate Chip Cake with Peanut Butter Frosting
slightly adapted from Bon Apetit; serves 16
Cake
Nonstick cooking spray
3 cups all-purpose flour
2 teaspoons baking soda
1 1/2 teaspoons salt
1/2 cup unsalted butter, room temperature
1/2 cup unsweetened applesauce
1 cup sugar
1/2 cup (packed) light brown sugar
3 large eggs
1 1/2 teaspoons vanilla extract
2 cups ripe bananas, mashed (the riper the better!)
1 cup light sour cream
1 cup chocolate chips + 1 cup mini chocolate chips
Preheat oven to 350°. Line two round 8" cake pans with parchment paper and spray with nonstick cooking spray.
In a medium bowl, combine flour, baking soda, and salt. Set aside.
In the bowl of an electric mixer, combine butter, applesauce, and sugar for 3 minutes. Add in eggs, one a time, mixing in between each addition, scraping down the bowl. Add in vanilla and mix until combined.
Add dry ingredients to wet ingredients and mix until just combined.
Add in bananas, then sour cream and mix with a spatula until just combined.
Fold in the chocolate chips.
Pour batter into the two pans. Bake for 50-55 minutes until a toothpick comes out cleanly in the middle.
Transfer the cake pans to cooling racks and let cool for around half an hour before attempting to remove from the pan. Once cooled, invert the cakes, peel off the parchment paper.
Frosting
2 cups creamy peanut butter
1 1/2 cups powdered sugar
1 cup (2 sticks) unsalted butter, room temperature
2 1/2 teaspoons vanilla extract
Using a hand mixer, combine the peanut butter, powdered sugar, butter, and vanilla extract.
Place one layer of cake on a cake stand or plate, cover with frosting using an icing spatula. Place the other layer of cake on top and use the rest of your frosting up.
Mine didn't look too pretty all frosted because I wasn't feeling patient, but next time I make a cake I think I'll look for a good cake decorating tutorial.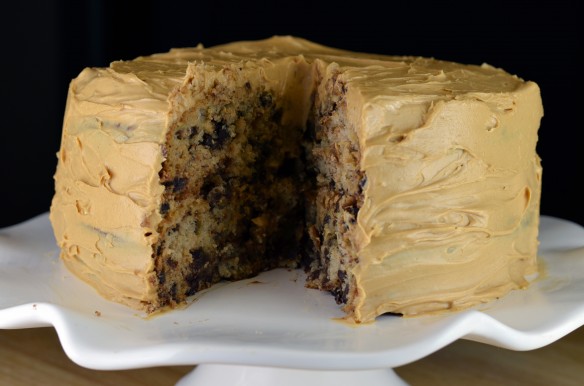 You can decorate with some Hershey's Kisses or chocolate chips like the original recipe calls for, but I think my cake was rich and unhealthy enough without the extra additions. And just so you know how good this cake was, Dustin described it as "magical"!