Beecher's Poutine
One of our new discoveries in Seattle has been poutine, a delectable dish from our brethren just north in Canada. It's Canada's version of chili-cheese fries. Except that the chili is beef gravy, and the nacho or melted cheese becomes cheese curds. It really is just "fancy" cheese fries, but it makes you feel so much more sophisticated digging into a hot, overflowing dish of poutine.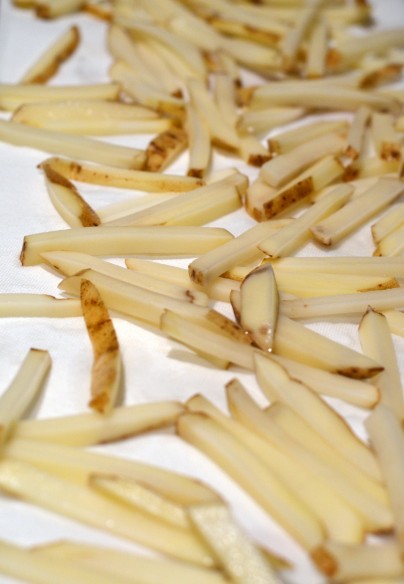 Cut and soaked overnight
What's the essential building block of good poutine? Good french fries. This was our second attempt at real french fries, and this time we didn't wuss out. We did the messy, greasy work required to get authentic and delicous fries. That means soaking hand-cut potatoes overnight, frying them once in the morning before work, letting them rest a half day in the fridge, and then frying them again right before serving. It also means using a half gallon of peanut oil. Although the most difficult part is disposing of said oil.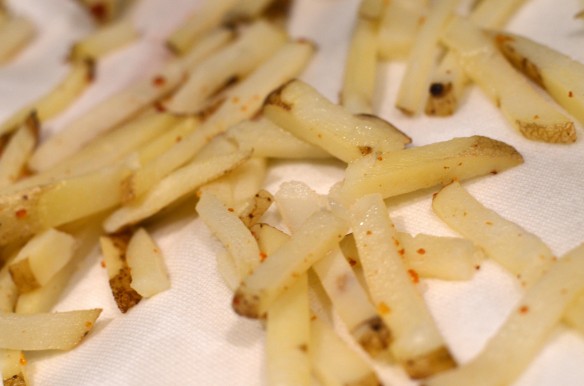 First fry
The best place to read up on crafting the perfect fry is definitely serious eats. We followed the recipe from our Skillet cookbook (recipes from a diner/food cart out here), which is fairly similar to serious eat's, but with a few modifications. Skillet's recipe omits the pre-boiling, as well as modifies the temperatures(300 and 350 instead of 400 both times) and cooking times slightly.
Either way, you would end up with legitimate french fries. On to the Canadian part...authored by Erin.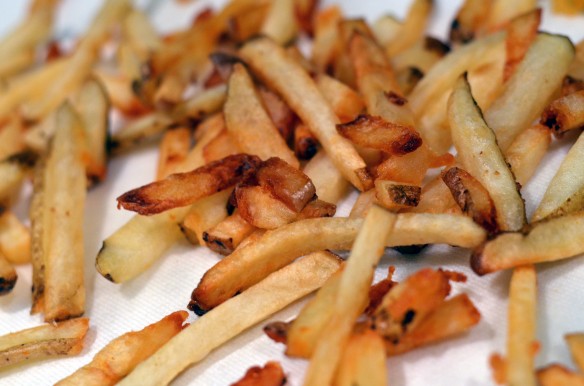 Second fry
According to Skillet, if you're going to do a gravy right, you need to make it from scratch. So, as usual, we did. A real gravy develops its texture and taste from time not cornstarch. Melt 1/4 cup of butter in a stockpot and cook one diced yellow onion until caramelized. Add in 1 teaspoon tomato paste and 1/4 cup of flour, cooking for a few minutes to make a (sort of) roux. Add in 2 3/4 cups beef broth (beef stock if you can find it). Next, pour 1 tablespoon Worcestershire sauce and 3 cloves of chopped garlic into the pot allowing to simmer for about 35 minutes. Season with salt, pepper, 1 tablespoon chopped sage, and 2 tablespoons chopped rosemary. Simmer for another 10 minutes. Puree the gravy with an immersion blender (thanks Mom) and adjust seasonings as desired.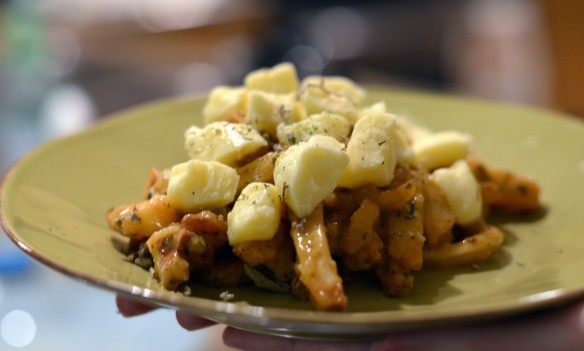 Final assembly as Poutine
To put it all together, grab a bunch of fresh french fries with tongs and toss them in a bowl. Ladle a few heapings of gravy and gently toss together making sure not to break up the fries. That would be sad. Top with cheese curds (we used locally made cheese curds from Beecher's at Pike's Place Market). Sprinkle with dried parsley, sage, and dill. Skillet doesn't actually do the traditional poutine. They cover the gravy fries with shredded parmesean and sharp cheddar, but this household likes tradition.
Great food, funny name.
* Note this poutine was served alongside a turkey burger heaping with healthy, green spinach. This was not, I repeat, NOT, the entire course of our meal!